Forth Road Bridge 'should reopen' to ease commuter delays
Thousands of sightseers have added to heavy traffic on the new Queensferry Crossing.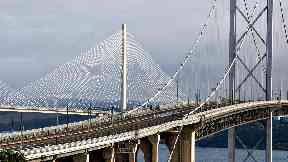 An MSP has called for the Forth Road Bridge to be reopened to ease severe delays on the new Queensferry Crossing.
Liberal Democrat MSP Alex Cole-Hamilton says the old bridge should be opened until traffic from tourists reduces on the new £1.35bn bridge.
Thousands of sightseers have flocked to the Queensferry Crossing since it opened, adding to the already busy commute between Fife and the Lothians.
Motorists have been limited to 40mph on the approach and over the crossing but many have been travelling at speeds far lower than that.
The Forth Road Bridge has been closed while necessary adjustments are made before it becomes a public transport corridor.
Only pedestrians and cyclists can currently use the 54-year-old bridge.
Cole-Hamilton said: "With such a fantastic structure there was always going to be an addition to traffic due to tourists wanting to see the new structure.
"However, it is clear that this is having a material impact on people's livelihood with some commuters from Fife missing half a day of work due to the excessive build up of traffic.
"To help those who depend on free flowing traffic to on from Fife Transport Scotland should consider delaying the work to the Forth Road Bridge and keep it open until the 'tourist boom' of the new bridges passes."
A spokesman for Transport Scotland said: "This is the start of the first full week of operations on the Queensferry Crossing and road users are continuing to familiarise themselves with the new layout, and the Crossing itself, which is in turn slowing traffic and causing queuing.
"Whilst there were queues on the southbound carriageway of the M90 this morning, these were within the parameters of the normal Monday morning peak. Traffic onto the crossing itself was free flowing.
"As predicted, traffic on the crossing at the weekend was unusually high due to drivers coming to look and travel over the new bridge."