Police clear council leader over 'corruption' claims
North Lanarkshire Council leader Jim Logue said it was a 'failed smear attempt'.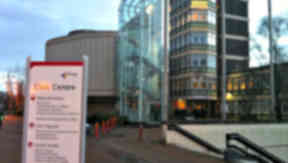 The leader of North Lanarkshire Council has been cleared by Police Scotland over allegations he was involved in corruption inside the authority.
Jim Logue was reported to police last month after it emerged he was formerly the director of two unauthorised council subsidiary companies.
SNP councillors had called on him to stand down until the allegations were investigated but their call was voted down by Labour, Conservative and independent councillors.
Logue dismissed the police complaint as a "failed smear attempt" against him.
He said: "Anyone who knows me and the way I go about my business knows that I would never be involved in fraud or corruption of any kind.
"I am very grateful for the support of my family and my colleagues during what has been an extremely difficult time.
"This whole episode has been a failed smear attempt. But the people who are complicit in that smear attempt should know this: I will never be diverted from my role in leading a forward-thinking council which achieves, and will continue to achieve, great things for the communities of North Lanarkshire."
A spokeswoman for Police Scotland said: "Police Scotland has concluded its investigation and no criminality has been established."