Rennie welcomes talks with SNP over Brexit deal vote
Nicola Sturgeon invited the Scottish Lib Dem leader to discussions in a letter.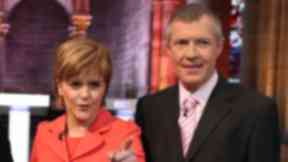 Willie Rennie has welcomed an invitation from the Scottish Government to discuss Lib Dem proposals for a second EU referendum.
Nicola Sturgeon wrote to the Scottish Liberal Democrat leader offering talks with Scotland's Brexit minister Michael Russell.
The Lib Dems want a fresh public vote once the terms of the Brexit deal are known, saying that the "final decision" must lie with the British people.
The First Minister has previously mocked Rennie for advocating a second EU referendum, telling him during a session in Holyrood in November 2016 that it was "nice to hear Willie Rennie talk about the benefits of referendums for a change".
Russell then told the Scottish Lib Dem leader in February this year that pushing for a new vote on Brexit would be "ineffective" due to a lack of support for the policy in the House of Commons.
However, Sturgeon said in a recent interview with the New Statesman magazine that the case for a second EU plebiscite could "prove hard to resist" over time due to the "utter car crash" of Brexit.
Replying to a letter from Rennie requesting a meeting, the First MInister wrote on September 27: "As you know my government is fully committed to ensuring that Scotland's interests are protected as part of negotiations between the United Kingdom and the European Union.
"Scotland did not vote to leave the European Union and it is important that this is taken into account.
"We are committed to working across parties and across sectors to best protect Scotland's interests."
She added: "I would invite you to meet with the minister for UK negotiations on Scotland's place in Europe to discuss your proposals for a second referendum."
The Scottish Lib Dem leader described the invitation as a "welcome step forward", adding that it "shows that there is support from across the political spectrum for a clear approach to Brexit that gives the British people a final say".
Rennie continued: "Both Nicola Sturgeon and Mike Russell have shown support for our campaign to give the public the final say but this can only be achieved if parties are willing to work together to protect the UK's relationship with the EU.
"I know that there are colleagues across all UK parties who support this position and I urge them to join this movement and build the momentum further.
"The infighting and incompetence of the Conservatives is pushing the United Kingdom towards a disastrous Brexit that will damage our country's future."
Former Scottish Labour leader Kezia Dugdale has expressed her backing for a second EU referendum, however, the two hopefuls vying to replace her, Richard Leonard and Anas Sarwar, rejected the call.
Theresa May insists that the 2016 referendum, which saw Britain vote to leave by a margin of 52% to 48%, was decisive.
"The people have decided," the Prime Minister told the Conservative party conference in Manchester last week. "We have taken their instruction."
She added: "Britain is leaving the European Union in March 2019.
"I know some find the negotiations frustrating, but if we approach them in the right spirit - a spirit of co-operation and friendship, with our sights set firmly on the future - I am confident we will find a deal that works for Britain and Europe too."
May has approached Sturgeon to invite her two a one-to-one summit on Brexit, following months of deadlock between the Scottish and UK Governments on the issue/
Download: The STV News app is Scotland's favourite and is available for iPhone from the App store and for Android from Google Play. Download it today and continue to enjoy STV News wherever you are.