MSPs told of 'serious consequences' if no Brexit deal
The EU's chief negotiator said such an outcome would set the UK back 40 years.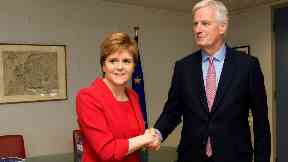 The European Union's chief negotiator has warned MSPs that if both sides fail to reach a deal over Brexit it will have "serious consequences" for the UK.
Michel Barnier told MSPs from Holyrood's Europe committee if the UK exits without an agreed trade deal it will set back relations between both parties "back 40 years".
MSPs from Holyrood's Europe committee met Barnier last month in Brussels but substantive details of the discussions have only emerged following the publication of the meeting's minutes.
The publication of the warning comes just a day after the Chancellor revealed he is refusing to spend public money on a no deal scenario until it becomes clear that is the path the UK is going down.
A spokesman for Barnier confirmed to STV News that the note is an accurate reflection of his views on the consequences of a no deal scenario.
The Prime Minister has repeatedly warned the EU she is prepared to walk away without a deal if the only one on offer is a "bad deal".
Both parties remain deadlocked with no agreement reached so far on the initial divorce settlement, which must be completed before any talks on future trade and custom relations can commence.
"Mr Barnier explained that it was not a typical negotiation as usually a no deal scenario would imply retaining the status quo whereas in this case, a no deal scenario would mean the UK becoming a third country without a deal with the EU," the minutes read.
The document continues: "A no deal scenario would have very serious consequences for the UK and the EU and would mean the relationship between the EU and the UK going back 40 years."
Barnier told the group "his door was open to others" to discuss Brexit but "he negotiated only with the UK Government".
Download: The STV News app is Scotland's favourite and is available for iPhone from the App store and for Android from Google Play. Download it today and continue to enjoy STV News wherever you are.