Tory MP to miss universal credit vote for football game
Douglas Ross will be officiating a Champions League match instead of attending the Commons.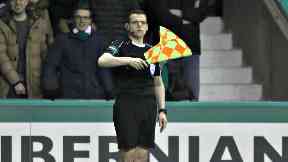 A Scottish Conservative MP will miss a parliamentary vote on universal credit to instead run the line at a Champions League game.
Douglas Ross will be unable to cast his vote as he will be in Spain to officiate as an assistant referee when Barcelona take on Greek champions Olympiakos at the Nou Camp.
The expansion of universal credit, merging six benefits into one, has been hit by a series issues.
Thousands of claimants have had to wait longer than the standard six weeks to recieve payments, a period already criticised by charities as being too long.
Many have been plunged into debt and arrears as they wait to receive their funds.
Labour is putting forward a motion on the floor of the House on Wednesday to pause the benefit's expansion after Citizens Advice warned it "is a disaster waiting to happen".
A spokesman for the Scottish Conservatives said: "There will be many Scottish Conservative representatives in this debate.
"Douglas has held more than 50 surgeries since becoming an MP and has met personally with David Gauke to discuss local cases which have arisen from those.
"Despite what the SNP thinks, the people of Moray are right behind Douglas and his refereeing, as they showed decisively when they elected him as their MP just a few months ago."
Ross ousted the SNP's Westminster leader Angus Robertson at the general election earlier this year.
It is not the first time he has missed parliamentary duties for his second job as an assistant referee, a role which earns him around thousands of pounds in addition to his salary as an MP.
Last year, while as an MSP before standing successfully for a Westminster seat, Ross missed a number of justice committee meetings and a vote on a motion concerning the SNP's council tax plans.
Ross last officiated a European club football match in August when he ran the line at the Europa League qualifying match between NK Domzale and Marseille.
Westminster's register of MPs' interests shows he was paid £1436.35 for the game.
SNP MSP Stewart said: "Part-time Tory MP Douglas Ross just never learns his lesson - and he is yet again leaving his constituents without a voice in Parliament because he'd rather rub shoulders with famous footballers."
He added: "It's time for two-job Ross to call time on his highly lucrative refereeing career."
Shadow Scotland Office minister Paul Sweeney said: "It shows a perverse sense of priorities that Douglas Ross is off working a second job in Barcelona while Parliament debates the huge damage that universal credit is causing in our society tomorrow.
"The rollout of universal credit has blighted lives across the country, forcing many to rely on food banks and crisis grants to get by. Yet Mr Ross doesn't even have the decency to turn up to Parliament and explain why he supports putting people through such misery.
"This sorry episode will leave Mr Ross's constituents in no doubt as to where his priorities lie and it's not playing the game for them."
Download: The STV News app is Scotland's favourite and is available for iPhone from the App store and for Android from Google Play. Download it today and continue to enjoy STV News wherever you are.