Universal credit helpline call charges to be abolished
Welfare secretary David Gauke has revealed the line will be free from next month.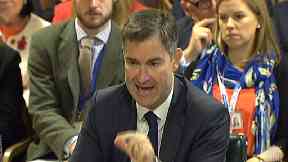 People will no longer be charged for calling the Universal Credit helpline, the government has announced, following huge criticism from MPs and campaigners.
Abolishment of the helpline charges - which cost claimants up to 55p a minute - marks a victory for Labour leader Jeremy Corbyn who challenged Theresa May over the issue at Prime Minister's Questions last week.
Welfare Secretary David Gauke said the line would be free from November and all of his departments helplines would be free by the end of the year.
"Given the recent attention and concern that this could place a burden on claimants, I have decided that this will change to a freephone number over the next month," Mr Gauke said, as he appeared before the work and pensions committee.
Heidi Allen, a Conservative MP on the committee and outspoken critic of the Universal Credit roll-out, said the announcement was a "great start to the day".
Mr Gauke is being pressed on the difficulties faced by welfare claimants as a result of the Universal Credit roll-out.
Critics claim flaws in the scheme - in particular the six-week wait for initial payment - are leaving people destitute, forcing vulnerable families to foodbanks and facing the threat of eviction.
Labour has called on the government to "pause and fix" the flagship reform, while a number of Tory MPs are also reported to be willing to rebel.
Mr Gauke defended the scheme, insisting advance loans were available to anyone struggling during the waiting period.
But, responding to a question from Labour MP Frank Field who chairs the committee, Mr Gauke said he was unable to guarantee that the roll-out would not lead to an increase in the use of food banks.