Scottish Labour leadership contenders hit out at Dugdale
Both candidates say the former party leader was not strong enough on the union.
Scottish Labour under former leader Kezia Dugdale was not strongly enough in favour of the union, the two candidates vying to replace her have said.
Both Richard Leonard and Anas Sarwar said the party under Dugdale's leadership had been "ambiguous" and "not firm enough" in its support of the UK and opposition to Scottish independence.
Sarwar also sought to distance himself from his involvement in the cross-party Better Together campaign during the 2014 referendum, instead saying he led the "distinct Labour campaign".
Numerous images show he did campaign for the official Better Together organisation.
The two men were speaking at a special televised hustings broadcast on STV's Scotland Tonight programme on Wednesday.
Before the 2016 European Union referendum, Dugdale said it would not be "inconceivable" for her to support Scottish independence if the UK voted to leave.
She later sought to clarify her stance, vowing to "never support" independence earlier this year.
UK Labour leader Jeremy Corbyn also had his position on the constitution questioned when he said in May he would not block a second independence referendum if "the Scottish people want it".
He had previously said he would be "fine" with a fresh poll on the question of independence.
Despite winning seven seats in Scotland in June's general election, the party came third behind the Conservatives for a second time after being beaten by Ruth Davidson's party in the Holyrood elections the previous year.
The Scottish Conservatives ran in both elections with a prominent message of opposing a second independence referendum.
Responding to a question asking how the party can win back lost Conservative voters, Leonard said: "In part it's about being firmer on the constitutional question, in a way that I think we were not, and I think we've got an opportunity to repair some of that damage."
The Central Scotland MSP added: "It's also about reaching out to people not as consumers but as citizens. It's about getting across the argument that poverty and inequality diminishes us all.
"So I think we can build a coalition of people in those Conservative-held seats, or in seats where the Tories have made gains, by being clearer on our position on our position on the Scottish constitution and secondly by reaching out to those progressives in those seats to build a coalition around that."
The left-wing candidate was challenged by a member of the audience on his vote in support of triggering Article 50 to begin the process of Brexit along with the Conservatives.
Leonard denied he supported a "hard Tory Brexit" and said he was "absolutely in line on where the Labour party is" on the issue of leaving the EU, adding the democratic vote to leave must be respected.
'Comments were made that allowed people to say that somehow we were weak on the United Kingdom.'

Scottish Labour leadership candidate Anas Sarwar
On the question of Labour's stance on independence, Sarwar said: "We were ambiguous on the constitutional question.
"I don't think we can ever go into an election campaign not having an answer being clear on the constitution."
Pressed by STV's Colin Mackay on if this was really the case, the Glasgow MSP said: "I think comments were made that allowed people to say that somehow we were weak on the United Kingdom."
He clarified: "Kezia Dugdale made those comments. We all know what those comments are."
Asked if Corbyn had also made such comments, Sarwar responded: "Jeremy Corbyn alluded to comments that I think were not helpful but I think some of it was taken out of context, to be frank.
"But the point I'd make is this - everyone knows where I stood in that referendum campaign.
"I led the distinct Labour campaign and I made very clear: Under my leadership, I will never, ever support independence or a second independence referendum."
Sarwar was then asked if he worked alongside the Conservatives as part of Better Together, when Labour, the Tories and the Liberal Democrats teamed up to campaign for a No vote in 2014.
He replied: "No," adding: "I did television debates where there were representatives of all political parties in that debate."
Sarwar served as deputy leader of Scottish Labour between 2011 and 2014 and appeared in a number of debates during the referendum.
Hs apparent denial of campaigning alongside the Conservatives in the official Better Together campaign is at odds with several images taken on the campaign trail.
Two separate photos show Sarwar and Scottish Conservative leader Ruth Davidson posing for photographs at the same Better Together stall in Glasgow in August 2012, shortly after the campaign group was formed and two years before the referendum.
On Thursday, a spokesman for Sarwar said: "Anas ran the distinct United With Labour campaign during the referendum, which was separate to Better Together.
"He toured the country, travelling over 11,000 miles and making over 300 stops. He also produced Labour's positive alternative to independence, the 'red book' Together We Can.
"Only if he is leader will there never again be any doubt any Scottish Labour's opposition to independence."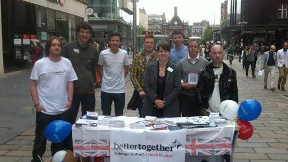 Download: The STV News app is Scotland's favourite and is available for iPhone from the App store and for Android from Google Play. Download it today and continue to enjoy STV News wherever you are.