National investment bank views sought in consultation
First Minister Nicola Sturgeon has invited people to have their say on the proposals.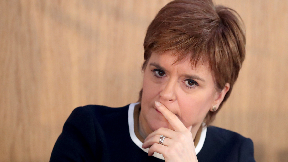 People will be asked for their views on plans for a Scottish national investment bank in a public consultation.
Nicola Sturgeon announced the move on Friday, follows the unveiling of the policy in September as a key plank of the SNP administration's programme for government.
The First Minister appointed Benny Higgins, chief executive of Tesco Bank, to help the Scottish Government set up the investment bank, who has convened a small advisory group to assist with the project.
The Scottish Government envisions the bank could help finance developments in areas such as infrastructure, innovation and business.
Speaking at an international conference on inclusive growth in Glasgow, Sturgeon said the views of the public will now be sought on the detail of how the bank could best aid the economy.
She said: "The council of economic advisers identified a national investment bank as an important means of delivering infrastructure development, finance for high-growth businesses and strategic investments in innovation.
"Our programme for government committed to the establishment of such a bank and I am delighted that Benny Higgins is leading the implementation work.
"Today, we are launching a consultation on the details of how best the bank can achieve those aims and support Scotland's economy."
The Federation of Small Businesses (FSB) welcomed the First Minister's ambitions for economic growth but said it was concerned the investment bank could be a distraction.
The FSB's Scottish policy convener Andy Willox said: "While there's much to be applauded in the concept of a national investment bank, it shouldn't distract from other pressing matters.
"For example, new figures out today show that Scotland's local roads are in an unacceptably poor condition and will continue to decline.
"Addressing this sort of unglamorous but chronic problem would win the First Minister plaudits amongst Scotland's smaller firms."
Scottish Liberal Democrat economy spokeswoman Carolyn Caddick said: "Previous SNP economic initiatives have launched with great fanfare yet fallen woefully short.
"A year ago the First Minister promised half a billion pounds of guarantees and loans to Scottish companies but the Scottish Growth Fund still hasn't paid out a single penny yet.
"That's why SNP ministers must ensure that the national investment bank has the support and resources that it needs to pack a real punch."
Sturgeon also insisted her government would continue to explore the possibility of a citizen's income for Scotland, another proposal set out in the programme for government.
'It might turn out not to be the answer, it might turn out not to be feasible.'

Nicola Sturgeon on citizen's basic income
She acknowledged the policy, which was costed by the Scottish Conservatives at £12.3bn, might not be feasible.

The Tories calculated this figure - "wrongly" according to the SNP - from a briefing on the issue by Scottish civil servants which was obtained under freedom of information.
The First Minister said: "Despite the fact that this has some critics, we are also going to work with interested local authorities to fund research into the feasibility of a citizen's basic income scheme.
"I should stress our work on this is at a very early stage. It might turn out not to be the answer, it might turn out not to be feasible.
"But as work and employment changes as rapidly as it is doing, I think it's really important that we look and are prepared to be open-minded about the different ways in which we can support individuals to participate fully in the new economy."
Scottish Conservative shadow social security secretary Adam Tomkins MSP said: "Nicola Sturgeon has already been told unequivocally that the idea of a citizen's income is a non-starter.
"Her civil servants stated to her that the idea it is totally unaffordable and unsustainable, yet she is continuing to press ahead with this trial despite knowing better."
Tomkins added: "It simply shows the lengths that this First Minister will go to appease the extreme left of the pro-independence movement."
The Scottish Government's public consultation on a national investment bank can be found here.
Download: The STV News app is Scotland's favourite and is available for iPhone from the App store and for Android from Google Play. Download it today and continue to enjoy STV News wherever you are.