Juncker denies disparaging comments about Theresa May
The European Commission president has hit out at claims in a German newspaper.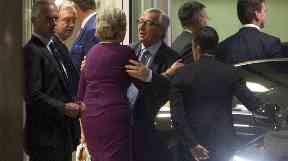 European Commission President Jean-Claude Juncker has hit back at claims he said Theresa May "begged for help"at a dinner in Brussels last week.
Mr Juncker's denial came after German newspaper Frankfurter Allgemeine Zeitung (FAZ) reported that the Prime Minister was also said to have appeared "anxious" and "tormented" and "despondent and discouraged" at the dinner on October 16.
However, a spokesperson insisted Mr Juncker would never have used the comments the paper attributed to him after the meeting: "Normally, we do not comment on leaks. But today I will.
"Some people like to point at us to serve their own political agendas, their own political priorities, or even to undermine our negotiating position.
"We would appreciate if these people would leave us alone. We have lots of work and no time for gossip.
"I have to be very clear that President Juncker would have never used the words attributed to him, and never would he have said anything like this.
"We have never been punitive on Brexit. We have said, at all levels, on many occasions, that we are working for a fair deal."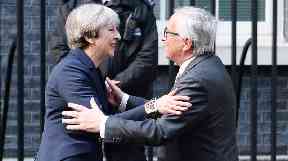 They continued that they would not enter into a "game" with reporters when asked to make clear that Brussels did not believe the UK Government was attempting to undermine the EU negotiating position.
"I will not say a word beyond what I said on the issues we discussed," the spokesperson stressed.
"If we have to say something we do, we don't need to be probed."
Downing Street refused to be drawn on the FAZ report.
Mrs May's official spokesperson said: "I have no comment on it whatsoever.
"One of the people who was present has denied this morning that it was the European Commission president has said it.
"I would point you to what is on the record, which is a joint statement by the European Commission and by Downing Street, which said that the talks were constructive and friendly."
Mr Juncker's denial of the claimed remarks followed an accusation by Mrs May's former chief of staff, Nick Timothy, that the European Commission president's senior aide, Martin Selmayr, was behind the leak to FAZ.
"After constructive Council meeting, Selmayr does this. Reminder that some in Brussels want no deal or a punitive one," he tweeted.
In response Mr Selmayr issued a string of tweets accusing Mr Timothy of making "false" claims and insisting that Brussels did not want to weaken the Prime Minister's position.
In his response to Mr Timothy, he suggested there were some people who had an interest in undermining the "constructive" relationship between Mr Juncker and Mrs May.
Following the dinner, a joint statement was released agreeing to accelerate Brexit talks.
Later in the week, at the European Council summit, EU leaders said they would begin scoping work on future trade talks while making clear to Mrs May that she must make more concessions on Britain's divorce payment for negotiations to progress.
Earlier this year, Mr Selmayr was accused of leaking to FAZ details of a private dinner between Mrs May and Mr Juncker at 10 Downing Street, which the Commission president was said to have left "10 times more sceptical" than when he arrived.
Mr Timothy, who worked for Mrs May at the time of the previous leak, said the new disclosure showed there are figures in Brussels who want Britain to leave the EU with either no deal or on terms which would punish the country for Brexit.