Brexit: Mundell unable to list powers set for Holyrood
The Scottish secretary's answers on the subject were dismissed as 'fluff'.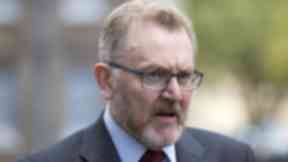 David Mundell was unable to list exactly the powers the Scottish Parliament will receive after Brexit when he came in for scrutiny at Westminster on Wednesday.
The Scottish secretary was repeatedly questioned over the repatriation of powers from Brussels at the monthly session of Scottish questions at the House of Commons.
SNP MP David Linden described the Cabinet minister's answers on the subject as "fluff".
Both the Scottish and Welsh governments have raised concerns in recent months that they will lose control over current devolved areas which are jointly administered alongside the European Union once Britain's membership ends.
The UK Government insists the process will leave Holyrood with more powers.
Mundell told the House a "significant increase in the decision-making power of each devolved administration" was forthcoming and accused SNP MPs of taking "pantomime approach" to the issue.
SNP MP Patrick Grady, who represents Glasgow North in the Commons, asked: "We hear this all the time, this powers bonanza that's coming, but the Prime Minister was unable to tell us on Monday and it seems he was unable to tell the Scottish affairs committee yesterday.

"So let's give him another opportunity: can the secretary of state name one power that will definitely come to the Scottish Parliament as a result of Brexit?"
Mundell said the process of which powers go where will come about through talks with the Scottish and UK governments.
"That is where the discussions are going on in relation to the transfer of powers," he said.
"But I am absolutely certain that at the end of this process the Scottish Parliament will have more powers and responsibilities than it does right now."
He added: "This is about grandstanding, it's not about the substantive issue of ensuring a transfer of very significant powers from the 111 powers that were listed to the Scottish Parliament.
"I believe in devolution, I'm committed to devolution and I want to see the maximum number of powers transferred. The SNP don't believe in devolution."
Download: The STV News app is Scotland's favourite and is available for iPhone from the App store and for Android from Google Play. Download it today and continue to enjoy STV News wherever you are.