Michael Gove apologises for Weinstein sexual assault joke
Gove compared being interviewed by John Humphrys with being sexually assaulted.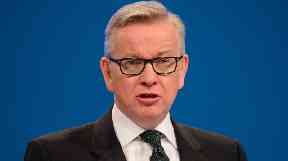 Michael Gove has apologised "unreservedly" for making a joke on the radio which compared being interviewed by Today presenter John Humphrys with being sexually assaulted by Harvey Weinstein.
The Environment Secretary was one of the guests on the programme's 60th anniversary edition when he made the joke about the disgraced media mogul who is at the centre of a number of sexual harassment allegations.
He said of the BBC Radio 4 presenter: "Sometimes I think that coming into the studio with you John is like going into Harvey Weinstein's bedroom."
He added: "You just pray that you emerge with your dignity intact."
Mr Gove was joined for the interview by former Labour leader Lord Kinnock, who added: "John goes way past groping."
The audience responded with a mixture of laughter and applause before the discussion moved on.
Following a furious backlash on social media, Mr Gove tweeted his apology over the comments which he decided were not "appropriate".
In response to the comments, Labour MP Jess Phillips tweeted that the former education secretary had "left the studio without his dignity".
Listeners to the show also tweeted their disgust.
In recent weeks a torrent of allegations have been made against Hollywood producer Harvey Weinstein, who is facing claims of rape and sexual assault dating back to the 1980s.
Weinstein has vehemently denied the allegations but said he recognised some of his past behaviour "caused a lot of pain".
Mr Gove's comments come at a time when the conduct of MPs is under intense scrutiny, amid reports that at least four have been the subject of sexual misconduct allegations.