Nicola Sturgeon praises 'trailblazer' Winnie Ewing
Mrs Ewing won a famous victory for the SNP in 1967 when she claimed the Hamilton seat.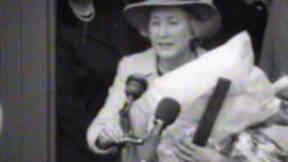 SNP leader Nicola Sturgeon has hailed Winnie Ewing 50 years on from the party veteran's watershed by-election victory, saying the result "changed Scotland's world".
Mrs Ewing was elected as an MP in Hamilton, South Lanarkshire, in 1967 in what had been seen as a Labour safe seat, setting in motion the rise of a party then considered marginal in Scottish politics.
After her election, she famously declared: "Stop the world, Scotland wants to get on."
Ms Sturgeon will speak at a 50th anniversary celebration event in Hamilton this weekend and the party also plans further commemorations in Glasgow and London later this month.
The SNP leader said: "When the story of our party and of Scotland's independence is written, it will be those who worked so hard against seemingly impossible odds who will take centre stage.
"There is little doubt that one person, one place and one date will stand out - Winnie Ewing, Hamilton, 1967.
"Winnie changed Scotland's world in 1967. Without her, there never would have been a Scottish Parliament of any kind to be reconvened."
Mrs Ewing's political career spanned almost four decades and following her election in Hamilton in 1967 became an MP for Moray and Nairn, and then served as an MEP and at Holyrood, standing down as a Highlands and Islands MSP in 2003.
As the oldest party member, she chaired the first meeting of the devolved Scottish Parliament, opening by saying: "I want to begin with the words that I have always wanted either to say or to hear someone else say - the Scottish Parliament, which adjourned on March 25 1707, is hereby reconvened."
The First Minister continued: "Winnie's role in Scotland's national story and her outstanding service is worthy of national celebration.
"She was a trailblazer for women in Scottish, UK and European politics.
"Her time in public life was marked with significant successes and by her constant promotion of Scotland's national interest in Europe, earning her the sobriquet of Madame Ecosse.
"Winnie started the process of shattering the glass ceiling for women in politics.
"More than this, she believed in the kind of Scotland we all seek - an inclusive, fair, prosperous and innovative country, ready and willing to embrace the future.
"Winnie Ewing is the outstanding Scottish politician of her generation."
Download: The STV News app is Scotland's favourite and is available for iPhone from the App store and for Android from Google Play. Download it today and continue to enjoy STV News wherever you are.