Liberal Democrats 'failing' to act on sexual harassment
Party members have urged leader Vince Cable to commission a full review.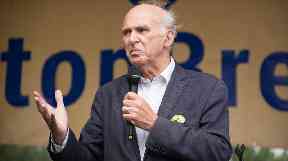 Liberal Democrat members and activists have told Sir Vince Cable that the party is "failing" to deal with sexual harassment.
In a letter to the party leader seen exclusively by ITV News, they call for a full review into how allegations are dealt with and more support for those who come forward.
On Monday the party suspended a member and referred reported rape allegations to the police.
But referring to the case in the letter, the signatories said that when "a group of young women put forward allegations of sexual assault against a fellow member of the party in July 2017...the allegations against the accused were not adequately looked into".
The emergence of the allegation drew the Lib Dems into the sexual harassment scandal engulfing Westminster.
The letter, currently signed by 82 members and activists, says such stories are "common within the party".
In 2013, Lord Rennard, one of the party's most senior figures, was accused of sexual harassment by four female party members. The signatories to the letter say that changes to the complaints procedure promised in the wake of these allegations have not been forthcoming.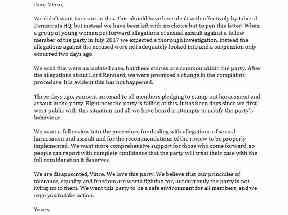 "Three days ago, you sent an email to all members pledging to stamp out harassment and assault in the party," they write. "Right now the party is failing at this. It has been days since we first went public with this situation and all we have heard is attempts to justify the party's behaviour.
"We want a full review into the procedure for dealing with allegations of sexual harassment and assault and for the recommendations of the review to be properly implemented.
"We want more comprehensive support for those who come forward, so people can report with complete confidence that the party will treat their case with the full consideration it deserves.
"We are disappointed, Vince. We love this party. We believe that our principles of tolerance, equality and freedom are worth fighting for, but currently the party is not living up to them.
"We want this party to be a safe environment for all members, and we urge you to take action."
On Monday Theresa May met with Jeremy Corbyn, Sir Vince and other party leaders at the House of Commons to reach agreement on new Parliament-wide anti-harassment procedures.
The meeting follows a spate of revelations and allegations involving MPs, which have led to calls for action to ensure Westminster is a safe place to work.
The prime minister said the leaders have agreed to introduce a new grievance procedure for parliamentary staff and face-to-face human resources support, in what she called an "important step forward".
ITV News has contacted the Liberal Democrats for a response.
Read the letter to Sir Vince Cable in full below:
Dear Vince, We didn't want to resort to this. This should have been dealt with effectively by Liberal Democrats HQ, but instead we have been left with no choice but to pen this letter. When a group of young women put forward allegations of sexual assault against a fellow member of the party in July 2017 we expected a thorough investigation. Instead the allegations against the accused were not adequately looked into and a suspension only occurred two days ago. We wish this were an isolated case, but these stories are common within the party. After the allegations about Lord Rennard, we were promised a change in the complaints procedure. It is evident this has not happened. Three days ago, you sent an email to all members pledging to stamp out harassment and assault in the party. Right now the party is failing at this. It has been days since we first went public with this situation and all we have heard is attempts to justify the party's behaviour. We want a full review into the procedure for dealing with allegations of sexual harassment and assault and for the recommendations of the review to be properly implemented. We want more comprehensive support for those who come forward, so people can report with complete confidence that the party will treat their case with the full consideration it deserves. We are disappointed, Vince. We love this party. We believe that our principles of tolerance, equality and freedom are worth fighting for, but currently the party is not living up to them. We want this party to be a safe environment for all members, and we urge you to take action.

Signed by 82 Liberal Democrat members and activists