EU: UK must provide more detail to end Brexit stalemate
The EU's chief negotiator said this was his 'top priority' in the weeks ahead.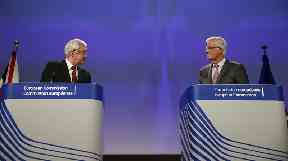 Brexit negotiations have made "progress" - but urgent work is needed on issues including the Irish border, citizens' rights and the country's divorce bill from the EU, officials say.
The EU's chief negotiator, Michel Barnier, indicated that getting more detail from the UK on its position on these three key issues within the next two weeks was his "top priority".
Only then, he said, could he recommend to EU leaders at December's summit that "sufficient progress" had been made, and begin the second phase of negotiations, which will focus on a trade deal.
Speaking at a joint press conference with UK Brexit Secretary David Davis, Mr Barnier said the role of the European Court of Justice was among the details still to be thrashed out.
And the question of the border between Northern Ireland and the Republic is a crucial sticking point.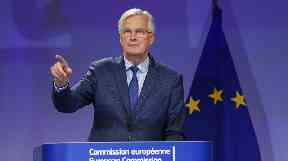 Mr Barnier said he wanted a solution that would prevent a hard border being reinstated, while preserving the "integrity" of the EU single market.
"The unique situation on the island of Ireland requires specific solutions," he said.
But Mr Davis said he could not accept any solution which may damage the "constitutional and economic integrity of the UK".
"We respect the European Union desire to protect the legal order of the single market and customs union," he said.
"But that cannot come at cost to the constitutional and economic integrity of the United Kingdom."
While he accepted the need for "specific solutions", he added: "This cannot amount to creating a new border inside our United Kingdom".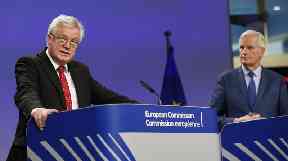 The UK was "ready and willing" to engage with Brussels "as often and as quickly as needed" ahead of the December 14-15 summit, he said, calling for "flexibility and pragmatism" from both sides.
The sixth round of talks in Brussels came as the Prime Minister vowed to include the date of the UK's official departure from the EU into law.
Amendments to the European Union (Withdrawal) Bill going through Parliament will spell out that the UK's membership of the EU will end at 11pm GMT on March 29, 2019.
She has also issued a stark warning to any would-be Tory rebels against attempts to derail Brexit.
Writing in the Daily Telegraph, she said: "We will not tolerate attempts from any quarter to use the process of amendments to this Bill as a mechanism to try to block the democratic wishes of the British people by attempting to slow down or stop our departure from the European Union."