UK Parliament to have formal vote on final Brexit deal
David Davis has announced a Withdrawal Agreement and Implementation Bill.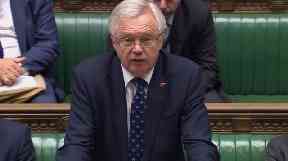 David Davis has said Parliament will be given a formal vote on the final Brexit deal before the UK leaves the EU in March 2019.
The deal covering "withdrawal" issues will only hold if it is approved by MPs and peers in a new piece of legislation to put it into British law, the Brexit Secretary said.
Mr Davis announced a Withdrawal Agreement and Implementation Bill, which MPs will be able to amend, to cover important areas such as citizens' rights, the so-called divorce bill and a transition period.
The Tory MP said the new legislation will provide "certainty and clarity" as Britain leaves the EU, ITV News Political Editor Robert Peston tweeted that the 68-year-old's announcement was a "potentially important concession to Tory rebels" ahead of potential rebellions on the EU (Withdrawal) Bill this week.
There are fears that pro-EU Tories are willing to rebel on the Withdrawal Bill in order to ensure a meaningful vote on the Brexit deal.
In a statement to the House of Commons, Mr Davis said: "It's clear that we need to take further steps to provide clarity and certainty both in the negotiations and at home, regarding the implementation of any agreement into United Kingdom law.
"I can now confirm that once we have reached an agreement we will bring forward a specific piece of primary legislation to implement the agreement.
"This confirms that the major policy set out in the withdrawal agreement will be directly implemented into UK law by primary legislation, not by secondary legislation with the Withdrawal Bill.
"This also means that Parliament will be given time to debate, scrutinise and vote on the final agreement we strike with the European Union.
"This agreement will only hold if Parliament approves it."