Minimum alcohol pricing decision to be revealed by judges
The Scottish Government wants every unit of alcohol to cost at least 50p.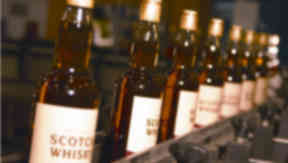 The UK's highest court is to rule on a legal challenge over plans to use minimum pricing for alcohol to improve public health in Scotland.
The Scottish Government has faced a years-long battle to introduce the legislation, which would create a minimum unit price for alcohol of at least 50p.
The Supreme Court's seven justices will announce their findings on Wednesday after hearing an argument from the Scotch Whisky Association (SWA) that minimum unit pricing (MUP) is "disproportionate" and illegal under European law.
A lawyer representing the SWA argued at a hearing in London in July that there were better ways to achieve the Scottish Government's aim of lowering alcohol consumption and tackling associated problems.
Aidan O'Neill QC told the justices: "It is a political decision that pricing should be used to decrease alcohol consumption and improve public health.
"We point out that there are a whole number of ways in which pricing can legitimately be used in accordance with EU law to achieve those aims."
Mr O'Neill said that, in principle, raising excise duty might be one way of increasing the price and achieving the same health benefits.
The fresh challenge came after the Court of Session in Edinburgh, Scotland's top civil court, rejected the SWA's appeal against the measure in October 2016.
Judges at the same court later gave the whisky body permission to take its fight to the Supreme Court.
The legal wrangle over the proposals began in 2012 and has delayed implementation of a policy aimed at tackling Scotland's drink problem.
'Alcohol is 60% more affordable in the UK than it was in 1980 and alcohol misuse costs Scotland £3.6bn each year - £900 for every adult.'

Health secretary Shona Robison
The SWA says alternative pricing measures would be less disruptive to free trade and competition across the European single market.
The group argues such measures would have at least an equivalent level of effectiveness in achieving the aim of the Scottish Government to improve public health.
The Supreme Court has to decide if the Alcohol (Minimum Pricing) (Scotland) Act 2012 is incompatible with European Union law and therefore unlawful under the terms of the 1998 Scotland Act.
Scottish ministers have prepared a draft order specifying a minimum price per unit of 50p but neither the 2012 act nor the order have been brought into force pending the outcome of the legal proceedings.
The appeal was opposed by the lord advocate and the advocate general for Scotland.
Scottish health secretary Shona Robison said: "Alcohol is 60% more affordable in the UK than it was in 1980 and alcohol misuse costs Scotland £3.6bn each year - £900 for every adult.
"There is strong evidence that tackling price helps reduce consumption and related harm.
"We are looking forward to the judgment of the UK Supreme Court on minimum unit pricing and, if it is the positive outcome we've worked for, we will move as quickly as is practicable to put the policy in place."
She added: "Minimum pricing addressing price is an important element of our long-term strategy to reduce alcohol-related harm, including the quantity discount ban, a ban on irresponsible promotions, a lower drink-drive limit and our nationwide alcohol brief intervention programme.
"We will also refresh our alcohol strategy later this year."
Download: The STV News app is Scotland's favourite and is available for iPhone from the App store and for Android from Google Play. Download it today and continue to enjoy STV News wherever you are.