Labour MSP demands probe into unminuted Sturgeon meeting
Neil Findlay has called on the head of the devolved civil service to act.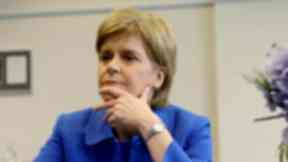 A Labour MSP has called on the head of the devolved civil service to investigate if an unminuted meeting held by the First Minister broke the ministerial code.
On Wednesday, STV News revealed Nicola Sturgeon met her economic adviser Professor Joseph Stiglitz in April while in New York.
The meeting was not publicised like other events while in the country and a senior aide to the First Minister chose not to minute the discussion or to even take a note.
Labour MSP Neil Findlay has written to Leslie Evans, the permanent secretary of the Scottish Government, to adjudicate on the matter.
A spokeswoman for the Scottish Government said: "Mr Findlay's letter has been received and a reply will be sent in due course."
A 12-page briefing document obtained by STV News showed "likely themes" the pair were expected to discuss included the administration's aim to build "inclusive [economic] growth", Brexit and a second independence referendum.
Sturgeon's chief of staff, Liz Lloyd, was also present in the discussion but took no notes or minutes.
The Scottish Government said she instead gave an "oral update" to the administration's chief economist.
Documents obtained by STV News
It is the 39th occasion STV News has identified no minutes being taken during a ministerial meeting or phone call.
Guidance given to civil servants states "a record should be kept of official meetings that deal with substantive government business" and it is "the responsibility of accompanying officials to take an appropriate record of an event with a minister".
In his letter to Ms Evans, Findlay said: "With such important matters being discussed, do you find it acceptable that no minute was taken?
"It is my understanding that this is the 39th occasion in recent times where a ministerial meeting was not minuted.
"Do you find this systematic approach to not minuting meetings acceptable? It is clear that these are a repeated breach of the ministerial code."
When questioned on the matter on Wednesday, a government spokesman said: "Officials do not routinely provide, and are not required to provide, minutes of all ministerial or official meetings.
"Minutes are typically only produced where the meeting is formal in nature, such as a task force, or where actions are expected to be generated."
Download: The STV News app is Scotland's favourite and is available for iPhone from the App store and for Android from Google Play. Download it today and continue to enjoy STV News wherever you are.