May hopes EU reacts 'positively' to her Brexit vision
The Prime Minister will tell the EU the UK will honour its financial commitments.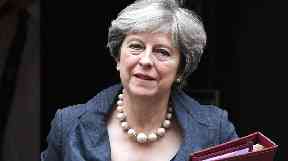 The Prime Minister said she hoped the EU would respond "positively" to her Brexit vision as she arrived for talks with European Council president Donald Tusk and Irish prime minister Leo Varadkar in Gothenburg.
Theresa May repeated her pledge that the UK will honour its commitments amid speculation she is prepared to increase the amount she is prepared to pay in the divorce settlement with the EU.
She said that she hoped the UK and remaining EU27 could "move forward together" as senior Brussels figures warned trade talks may not be given the green light in December.
The talks are due to take place in the margins of a summit to discuss a new European Pillar of Social Rights for workers' rights.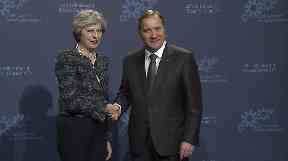 "We look forward to the December European Council. We are continuing to look through the issues," Mrs May said.
"But of course we want to move forward together, talking about the trade issues and trade partnership for the future.
"I have set out a vision for that economic partnership, I look forward to the European Union responding positively to that so we can move forward together and ensure that we can get the best possible arrangements for the future that will be good for people in the United Kingdom and across the remaining EU27."
EU sources suggested Mr Tusk will tell the Prime Minister that although informal preparations for the second phase of Brexit had begun, leaders may not agree to move on to formal talks next month.
A Brussels source said: "Mr Tusk will inform Mrs May that such a positive scenario is not a given, it will require more work and that time is short.
"And he will ask Mrs May how the UK plans to progress on the three key issues for phase one."
The three issues where "sufficient progress" must be made include the financial settlement, citizens' rights and the border between Northern Ireland and Ireland.
Mr Varadkar is likely to use the meeting to emphasise that progress is possible in December but "only if all sides show sufficient political will".
He is set to indicate the importance of upholding all aspects of the Good Friday Agreement, including the powersharing institutions, and will continue to urge the Northern Ireland parties to reach agreement.
Before we move to phase two talks on trade we want taken off the table any suggestion that there will be a physical border, a hard border, new barriers to trade on the island of Ireland.

Irish PM Leo Varadkar
Mr Varadkar suggested that the UK was unprepared for the difficulties its approach to Brexit would cause.
"I think it's certainly possible that we can come to conclusions in December allowing phase two talks to begin, but if we have to wait until the New Year, if we have to wait for further concessions, so be it," he told reporters.
"But I think it would be in all of our interests that we proceed to phase two if we can in December.
"It's 18 months since the referendum, it's 10 years since people who wanted a referendum started agitating for one.
"Sometimes it doesn't seem like they have thought all this through."
After meeting Mrs May on Thursday, Swedish Prime Minister Stefan Lofven said it was "very difficult to say" whether trade talks would be given the go-ahead in December.
If leaders do not agree to move to the second phase at the summit in Brussels on December 14-15, then it could mean no progress until the next scheduled European Council in March.
That would add to business uncertainty and increase the potential for the UK to leave without a Brexit deal.