Two Tory MSPs urge UK Government to amend Brexit Bill
Graham Simpson and Alison Harper called for the commitment in a Holyrood report.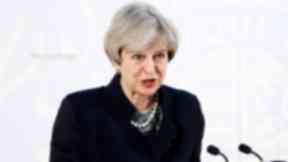 Two frontbench Scottish Conservative MSPs have urged the UK Government to amend the Brexit Bill to ensure Westminster cannot legislate on devolved matters.
Graham Simpson and Alison Harris called for the commitment in a report by Holyrood's delegated powers and law reform committee, which they are both members of.
The Scottish Government has warned the current drafted legislation will mean UK ministers are able to legislate on a number of areas, such as farming and fishing, after Brexit which are currently jointly administered by Holyrood and the European Union.
It is the latest division on Brexit between Scottish Conservative parliamentarians and their counterparts in the UK Government.
East Renfrewshire MP Paul Masterton warned the Prime Minister on Tuesday he would vote against any attempt to fix the date and time of the country's exit into law.
The Holyrood committee, which includes SNP and Labour MSPs, unanimously called on the UK Government to make the amendments in the report.
Simpson, who is the panel's convener, said: "We are strongly of the view that the bill should be amended so that UK ministers can only legislate in devolved areas with the consent of devolved governments.
"However, there needs to be a process for the Scottish Parliament to scrutinise Scottish ministers' decisions before consent is given.
"Legislation can be taken through by different routes and we want governments to cooperate when deciding how to handle these decisions and we want legislatures to be able to scrutinise those decisions."
He added: "We also note that there is specific protection for the Northern Ireland Act and we think that should also apply to the Scotland Act 1998.
"It is essential that legislatures have an opportunity to apply thorough scrutiny to regulations made under these powers. The scrutiny process should not be compromised."
In response to the report, a spokeswoman for the UK Government said: "We note the input from the committee and will consider the report.
"This bill delivers certainty for all parts of the UK, including Scotland as we prepare to leave the EU. Devolution clauses will be debated fully on later days of committee stage.
"We will listen to all of those who offer improvements to the bill but we will not do anything that risks undermining the benefits of the UK, such as its internal market."
Download: The STV News app is Scotland's favourite and is available for iPhone from the App store and for Android from Google Play. Download it today and continue to enjoy STV News wherever you are.