Richard Leonard elected as new Scottish Labour leader
The campaign lasted almost two months and was deeply personal at times.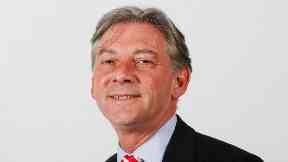 Richard Leonard has been elected as Scottish Labour's new leader.
The result was announced on Saturday morning at the Glasgow Science Centre after a campaign which lasted more than two months.
Leonard won a total of 56.7% with his opponent, Anas Sarwar, only managing to pick up 43.3% of the vote. The contest had a turnout of 62.3%.
The MSP said Sarwar will have a "vital role to play" going forward.
The party's new leader has only served as an MSP for just over one year.
He told party members his election was a "message of real change" and it was his aim to be "the next Labour First Minister of Scotland".
Leonard was most successful in the affiliated supporters section which is made up mostly of trade union members.
His triumph will be seen as the first major victory that the party's left-wing has accomplished in an internal Scottish election in a number of years.
He has been active within the party and the trade union movement for over thirty years, having previously served as a GMB organiser.
The MSP has also been an ardent support of Jeremy Corbyn's leadership of the national party since the Islington North MP's surprise leadership victory in 2015.
Leonard said: "With this new movement for real change, energised with this new generation helping to lead it, but founded on our old and enduring idealism too - that is the unity we can rally around, not simply a call for unity but around a renewed unity of purpose.
"And our shared purpose is clear, to build again, to win again.
"So that our purpose today is not just electing a leader. My aim is to be the next Labour First Minister of Scotland."
The new Scottish party leader also "zero tolerance" of sexism, misogyny and sexual harassment.
"We need to change the political culture," Leonard said, as he vowed to set up an independent route for complaints of this nature.
The remarks come after ex-interim leader Alex Rowley was suspended from Labour on Wednesday over accusations of sending a string of abusive messages and controlling behaviour by his former partner.
UK Labour leader Jeremy Corbyn congratulated Leonard on his victory, saying it could be a "turning point in Scottish politics".
Corbyn said: "After being written off time and again, the general election showed that our party is capturing the mood both in Scotland and across the rest of the UK.
"There is much to do to continue our party's revival in Scotland and many who still need to be persuaded to put their trust in the Labour Party.
"But Richard's campaign offered a challenge to the rigged system that has benefited a wealthy elite and showed how he will lead Scottish Labour to transform society.
"This can be a turning point in Scottish politics and our party will now come together, united to challenge Tory and SNP austerity that has held Scotland back."
He added: "I am confident that under Richard's leadership, Labour will once again be a real force for change in Scotland.
"I look forward to campaigning with him in Scotland next week as we build a movement that will help our party win in Holyrood and Westminster, to transform our country for the many not the few."
Commenting on the result, defeated candidate Sarwar said: "I congratulate Richard on his victory. He has my full and unwavering support, and I look forward to campaigning with him to return a Scottish Labour government.
"Our party will now unite around our new leader because we all share the same burning desire to elect a Scottish Labour government that works for the many, not the few.
"I am immensely proud of my positive campaign, which put forward new, radical, bold policy ideas, and always remembered who our real opponents are: the SNP and the Tories."
He added: "I would like to thank the thousands of members and trade unionists who voted for me, and the hundreds who volunteered to help the campaign.
"I have a deep sense of pride about what we have achieved. I'm sorry I couldn't do it for you, but I look forward to campaigning with you in the weeks, months and years ahead."
'This has been a deeply unedifying election to lead a deeply divided party.'

SNP's Derek Mackay on Scottish Labour leadership contest
SNP business convener Derek Mackay said: "Congratulations to Richard Leonard on becoming the new leader of Scottish Labour.
"The SNP will work with any party to stand up to the Tories - and we hope Mr Leonard will begin by calling on the UK Government to end damaging Tory austerity in this week's budget, halt the botched roll-out of Universal Credit, and protect Scottish jobs and our place in the single market."
"However, despite Mr Leonard's appeals for unity today," he added, "there is no doubt that this has been a deeply unedifying election to lead a deeply divided party.
"Far from engaging in a battle of ideas about how to improve the lives of ordinary people in Scotland, senior Labour figures have instead spent the last three months publicly tearing each other to bits, settling old scores and even suggesting that the campaign is being rigged."
Scottish Conservative leader Ruth Davidson also offered her congratulations, but added: "As Labour's ninth leader since devolution, many people will be wondering whether he will turn out to be another temporary solution to his party's deep seated problems.
"Scottish Labour has spent far too long fighting itself in an endless succession of leadership contests, instead of fighting for a better deal for the people of Scotland.
"The Scottish Conservatives are the only party with the strength and unity to stand up to the SNP and provide the strong opposition our country needs.
"It is unlikely that any new captain will be enough to turn around a Scottish Labour ship that is holed below the waterline."
Leader of the Scottish Liberal Democrats Willie Rennie said: "Stepping up to lead Scottish Labour at any time is a feat but now is like a journey to the North Pole.
"It's cold, has some dangerous predators and nothing is there when you arrive. I wish Richard Leonard well on his journey."
Scottish Greens co-convener Patrick Harvie said: "Congratulations to Richard Leonard on being elected as the new leader of Scottish Labour.
"Aside from internal disciplinary matters, the immediate challenge facing the party is to determine whether it wants to continue with its tactic of shouting from the sidelines and achieving nothing in opposition.
"Alternatively, it can now choose to work constructively with Greens and others to help form a broad, progressive consensus at Holyrood to deliver environmental and social justice in Scotland."
Download: The STV News app is Scotland's favourite and is available for iPhone from the App store and for Android from Google Play. Download it today and continue to enjoy STV News wherever you are.