Dugdale refused permission to appear on I'm a Celebrity
The former Scottish Labour leader is now facing disciplinary action from the party.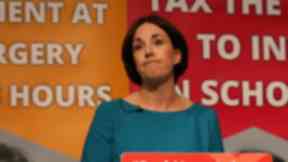 Former Labour leader Kezia Dugdale was refused permission by the party to star in ITV reality show I'm a Celebrity... Get Me Out Of Here, her successor has said.
Richard Leonard said the MSP had sought permission before she agreed to head to the Australian jungle.
The new leader will hold discussions with Labour MSPs over what disciplinary action should be taken against her next week, with suspension from the party being one possible sanction.
STV News understands party business manager James Kelly MSP turned down a request from Dugdale last month.
Kelly rejected the approach as he felt he could not give permission for something that would take place after a new leader had been elected and when he may no longer also be the party's business manager.
Dugdale then approached Leonard and his leadership campaign rival Anas Sarwar earlier this month for time off for what she described as a project abroad that would raise money for charity.
News of her forthcoming stint in the jungle was leaked on Friday but it was not expected to be public knowledge until she walked into camp later this week.
Both Leonard and Sarwar granted the time off but were not told it was for the reality TV show.
Leonard told BBC Radio Scotland: "My understanding is she sought permission and wasn't given permission.
"There is going to need to be a proper discussion about it, the circumstances around it and whether it is appropriate to take action or not.
"I am not persuaded the immediate step that the Labour party needs to take is to suspend Kezia from membership of the Labour party but I do think we need to have a discussion about it."
A source close to Dugdale told STV News: "Kezia has worked her socks off over the two years even when at times the party was at its lowest ebb.
"After everything she has done I hope her fellow MSPs come to accept that it will be great to have her talk about her Labour values to millions of viewers every night."
The First Minister has wished the Labour MSP the best of luck but said she would not like to see one of her own politicians in the jungle.
Sturgeon said: "It's not something I would want to see an SNP MSP do.
"MSPs are elected to represent their constituents. I think it's important they do that."
The First Minister continued: "I am not sure I entirely understand what Kezia Dugdale thinks she will benefit from this.
"I am also not clear what her motivation might be. It's not a decision I would take. I'm not sure there are many politicians who would choose to do what she is doing.
"That said, she is in the Scottish Labour Party - they appear to be a nest of vipers, so perhaps getting away from that to the jungle, when you see it in that context, it's easier to understand."
Sturgeon added: "She's decided to do it, so you know what, good luck to her."
Download: The STV News app is Scotland's favourite and is available for iPhone from the App store and for Android from Google Play. Download it today and continue to enjoy STV News wherever you are.