UK will get 'ambitious' trade deal if EU move talks on
David Davis said the deal will 'go beyond anything' the EU has ever agreed before.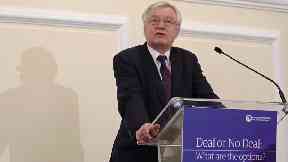 Britain's Brexit team is striving to achieve a trade deal that "goes beyond anything the European Union has signed to date", but needs negotiations to move forward for that to happen, David Davis has said.
The Brexit Secretary was upbeat on the possible outcome of talks, saying a deal was "by far the most likely outcome" and vowing the UK would be a partner to Europe "like no other".
But for all Mr Davis' optimism, until the EU decides that "sufficient progress" has been made on core issues, such as the so-called divorce bill, the talks cannot move on to trade.
Addressing a conference organised by the European Conservatives and Reformists group - titled "Deal or No Deal" - Mr Davis told delegates: "It's becoming clearer with each negotiating round that we now must start talking about our future relationship."
European leaders are due to make a decision on that in December.
As Britain seeks to extricate itself from the EU following last year's referendum there has been much speculation about the possible model for the UK's post-Brexit relationship with Europe.
Mr Davis said his team was aiming for "a bold and ambitious new relationship with our European friends, with a unique, comprehensive trade agreement at its heart, that goes beyond anything the European Union has signed to date".
"After Brexit, Britain will be a third-country partner like no other," he vowed.
"Much closer than Canada, much bigger than Norway and uniquely integrated on everything from energy networks to services."
His comments come as ministers reportedly agreed to increase the amount the UK will pay for a divorce settlement, and to allow the European Court of Justice to have a continuing say on the rights of EU citizens in Britain.
Both measures expected to prove popular with Britain's European negotiating partners ahead of their December meeting.