Corbyn attacks Tories for 'failing' living wage workers
The country's lowest paid will be £900 worse off in 2020 than promised, study finds.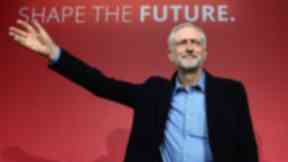 The country's lowest paid workers will be £900 worse off in 2020 than promised by the Conservatives, the UK Labour leader has claimed.
Jeremy Corbyn attacked the UK Government after the independent Office for Budget Responsibility (OBR) revealed a target of raising the national living wage to £9 by 2020 will be missed.
He called the finding "shocking and unacceptable" during a visit to Glasgow on Monday with new Scottish Labour leader Richard Leonard.
The OBR now forecasts the national living wage will only reach £8.56 in 2020 and will continue to miss the target until it reaches £9.10 in 2020.
"Pay in our country is actually falling," said Corbyn.
"Think about that for a moment. Something must be very wrong when pay in the sixth largest economy in the world has fallen for a decade."
He added: "Now we know the price of Tory failure for the low paid. The lowest paid workers will be £900 per year worse off in 2020 than promised. That's shocking and unacceptable."
The £9 policy pledge was the centrepiece of then-Chancellor George Osborne's Budget in 2015.
Corbyn pledged to ban zero-hour contracts and "take on tax dodgers" if he is elected to government at the next election during his speech in the Lighthouse building.
The UK Labour leader said the country needs real change and the SNP "have shown they can't do it and the Tories have shown that they don't want to do it".
In response, SNP MSP Ivan McKee said: "Jeremy Corbyn has been a terrible disappointment when it comes to taking the fight to the Tories.
"We've got arguably the most incompetent Tory government ever to hold office, and still Labour are hopelessly failing to hold them to account.:
Speaking after Corbyn, Leonard announced plans to put forward a policy programme for his party's approval at their conference in Dundee in March.
The newly elected leader will establish 12 separate policy reviews to build the programme.
"These reviews will advance our mission to build a new economy and a new society with an expanded public realm," he said.
"This means more ownership and more control for the people in the economy."
Conservative MSP Annie Wells said: "Jeremy Corbyn unashamedly wants to create what they see as a socialist utopia in Scotland.
"But you just have to look around the world to see how disastrous this would be.
"Labour's lurch to the extreme left leaves the Scottish Conservatives as the only genuine alternative to the SNP in Scotland."
Download: The STV News app is Scotland's favourite and is available for iPhone from the App store and for Android from Google Play. Download it today and continue to enjoy STV News wherever you are.