Publicly-owned ScotRail could allow for 6.5% fare cuts
A report found that having the company privately owned is 'hard to justify'.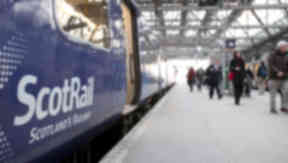 ScotRail could be taken into public ownership by 2020, a new report has said, claiming the move could lead to average fare cuts of 6.5% across the service.
A study produced for the TSSA union said if the rail service was nationalised "there is every reason to believe a publicly-run ScotRail could achieve a greater level of service than its predecessors".
It also said having a publicly operated rail service could be a "powerful symbol of the sort of country Scotland aims to become in the 21st century".
The report, which was produced by the Common Weal think tank, was published ahead of a meeting between TSSA general secretary Manuel Cortes and Transport Secretary Humza Yousaf.
Scottish rail passenger services have been run by train operating companies for the past two decades, the report said, adding the operators of the ScotRail franchise have made "consistent annual operating profits of #10-20 million".
ScotRail was described as being "one of the most highly subsidised franchises in the UK", with Abellio Scotrail receiving £293m in direct government funding in 2015-16 - with the report stating this amounted to just over 45% of its total income.
And it said the "overall picture that emerges" of the operating company making profits "obtained on the basis of vast public subsidy and limited amounts of at-risk investment" appears to be "hard to justify".
Robin McAlpine, Common Weal director, said: "It's time to be honest about what the current arrangements for trains in Scotland means.
"Passengers pay a very large sum of money to pay for unnecessary tendering and shareholder profits to create the impression that there is a market in rail fares which is pushing down costs.
"But there isn't a market in rail fares reducing costs, just one private monopoly for ten years then another private monopoly for ten years.
"Every time you spend ten pounds to go by train in Scotland you've paid 65p purely to make a private profit for a private company which is already receiving the highest rail subsidy in Britain. It makes no sense whatsoever, unless you are a shareholder or a political ideologue."
He added: "This report is a case study of political obsession being put before the interests of taxpayers or passengers."
A spokesman for Mr Yousaf: "It was the SNP government which secured the right for a public sector operator to bid for the franchise, after being repeatedly denied that right by successive Labour and Tory governments.
"We are taking steps to ensure that a public sector operator is able to bid for a future rail contract, and that there is a public sector body able to do so.
"This will enable us to ensure the delivery of rail services in Scotland that deliver maximum economic and social benefit.
"TSSA are involved in cross party discussions with the unions on a public sector bidder and we look forward to receiving a copy of their report."
Download: The STV News app is Scotland's favourite and is available for iPhone from the App store and for Android from Google Play. Download it today and continue to enjoy STV News wherever you are.