Raising taxes will make Scotland uncompetitive, says CBI
The finance secretary is widely expected to increase taxes in next month's budget.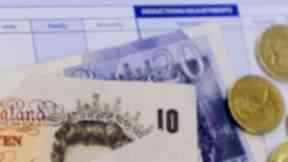 A business group has warned the finance secretary that raising taxes in next month's Scottish budget will make the country uncompetitive.
CBI Scotland, whose member companies employ around 500,000 workers, warned a "chasm" will open up between Scotland and the rest of the UK that could damage the country's economy.
Derek Mackay is widely expected to raise income tax on middle and higher earners when he sets out his spending plans next month.
Scots earning more than £43,000 already pay £400 more in income tax than workers in the rest of the UK after Mackay froze the salary threshold for the 40p higher rate band earlier this year.
The National Audit Office estimate 386,000 Scots will pay more income tax in the current financial year than their counterparts in the rest of the UK.
The Chancellor abolished stamp duty on any property purchased by a first-time buyer valued below £300,000 in England and Wales in the UK Budget last week.
Land and buildings transaction tax, the Scottish equivalent of stamp duty, kicks in at the much lower value of anything above £145,000.
In the CBI Scotland submission to the devolved administration, the body warned Mackay to "ensure parity of income tax and business rates regimes with the rest of the UK" or the country will struggle to retain the best talent.
CBI Scotland director Hugh Aitken warned any change that would make the country "less competitive or less attractive must be avoided at all costs."
He said: "Boosting Scotland's productivity is the only surefire way to grow our economy, generate the revenues we need for quality, sustainable public services and raise living standards across the board.
"These are goals we all share and business has a role in working with government to achieve them."
He added: "On income tax and business rates, we simply can't afford for a chasm to open up between Scotland and the rest of the UK if we want to remain competitive.
"Variance across the UK would make it more difficult for our businesses to attract and retain talent they need and could make investors think twice about setting up shop here in Scotland.
"With inflation at a three-year high and outpacing wage growth, we should avoid putting extra pressures on household incomes."
A Scottish Government spokesman said: "We are doing everything within our powers to support our economy, including our retailers.
"For example, this year we have reduced the business rates poundage by 3.7% and funded total rates relief of around £660m, including the small business bonus scheme which will lift 100,000 properties out of rates altogether.
He added: "In addition to the growth accelerator, which will mean businesses pay no rates increases for the first year on new and improved properties, we will ensure every new build property does not pay a penny in rates until it is occupied for the first time
"Further detail, including confirmation of the rates poundage for next year, will be confirmed in the draft budget next month."
Download: The STV News app is Scotland's favourite and is available for iPhone from the App store and for Android from Google Play. Download it today and continue to enjoy STV News wherever you are.