Minister denies watching pornography on Commons computer
A former police officer has claimed the images were found some years ago.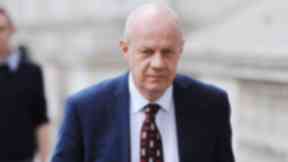 Damian Green has said that he never looked at pornography on a computer in his Parliamentary office amid fresh allegations over material found by police.
The minister - who effectively acts as Theresa May's deputy - has faced new claims that "thousands" of pornographic images were found on the computer during a raid over Government leaks in 2008.
None of the material was deemed unlawful. It is not known exactly who viewed the images on the computer, which was accessible by Mr Green and a number of his staff.
Mr Green, who is the subject of a misconduct investigation by the Cabinet Office over alleged inappropriate behaviour towards a young activist, today reiterated firm denials that he viewed porn on the computer.
I have maintained all along, I still maintain, it is the truth, that I didn't download or look at pornography on my computer. But obviously while the investigation is going on I can't say any more.

Damian Green
He ignored shouted questions over whether he was aware of any porn on the computer.
It comes as Mr Green faces allegations from a second retired police source that "thousands" of images were found by police.
Neil Lewis, a retired Scotland Yard detective, said the data suggested the material had been viewed for hours at a time over a period of around three months.
He reported that a number of factors had left him in "no doubt whatsoever" that it was accessed by the Tory MP.
"The computer was in Mr Green's office, on his desk, logged in, his account, his name," Mr Lewis told the BBC.
"In between browsing pornography, he was sending emails from his account, his personal account, reading documents ... it was ridiculous to suggest anybody else could have done it."
Similar material had also been accessed on Mr Green's laptop, he claimed.
Those claims echo a report in the Sunday Times earlier this year, based on an interview with ex-Scotland Yard assistant commissioner Bob Quick.
Mr Green had firmly refuted the earlier story as well, which he said was "completely untrue" and came from a "tainted and untrustworthy source".
Scotland Yard has distanced itself from the leaks in a statement released today, which said: "Confidential information gathered during a police inquiry should not be made public.
"The appropriate course of action is to co-operate privately with the Cabinet Office inquiry as the MPS (Metropolitan Police Service) has done.
"As is routine for cases of this nature the circumstances of information being made public will be looked at by the Directorate of Professional Standards."
Labour MP Jess Phillips said Mr Green should lose his job if Mr Lewis's allegations were shown to be true.
"There is absolutely no illegality - I don't think anybody is saying that," she said. "But would you be fired if you looked at pornography on your work computer?"
However, Conservative MP Andrew Mitchell, a friend of Mr Green, said it was "wrong" for ex-police to leak information designed to "blacken the name of a serving Cabinet minister".
"You are not guilty until proven so in this country," he told the BBC's Today radio programme.
"I don't think that it is proper for retired police officers to behave in this way. I don't think it's giving Mr Green natural justice and I think it is wrong."
A spokesman for the First Secretary of State said: He maintains his innocence of these charges and awaits the outcome of the investigation."