Sturgeon warned against raising taxes by business group
The Scottish Chamber of Commerce says a tax rise will cause 'years of damage'.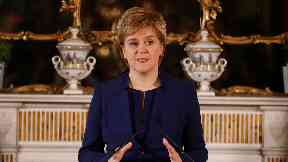 The First Minister has been warned by one of Scotland's largest business groups that increasing taxes in next week's devolved budget will damage the country's economy.
The Scottish Chambers of Commerce, whose membership totals includes around 11,000 companies, said it would take "years to repair" the damage done by upping taxes on workers.
The comments were made in a speech by the organisation's president Tim Allan at the body's annual dinner, which was attended by the First Minister, at the Hilton hotel in Glasgow on Thursday.
In her own remarks at the event, Nicola Sturgeon said her spending plans would place a "crucial importance of providing a good environment for business".
Finance secretary Derek Mackay will set out the Scottish Government's budget next week and is widely expected to raise income taxes to fund services and a pay rise for public-sector workers.
Mr Allan said: "Our concern is that, at a time of sluggish growth and faltering business investment, a competitive Scotland cannot afford to be associated with higher taxes than elsewhere in the UK."
"A high tax Scotland would be easy to achieve but the damage could take years to repair."
He added: "Unless tax revenues were ring-fenced to drive growth and job creation, the cost for a small nation in terms of lost investment is incalculable.
"We want a level playing field on tax throughout the UK to keep Scotland competitive."
Last week, a second business group, CBI Scotland, warned the country "simply can't afford for a chasm to open up [in tax rates] between Scotland and the rest of the UK if we want to remain competitive".
Despite the warnings from business groups, a poll published on Tuesday found 60% of Scots would be willing to pay more in tax to find public services.
In her speech to the dinner, Sturgeon said: "By far the best - or rather, the least worst - way of delivering Brexit is for the UK as a whole to remain in the customs union and the single market.
"The events of this week have simply increased the urgency of ensuring that that place in the single market is maintained, which is essential for jobs, investment and living standards."
She added: "Next week, we will publish our draft budget for the year ahead. We'll set out how - at a time when our block grant for day-to-day expenditure is declining in real terms - we intend to fund first class public services, a fair social security system, and how we achieve our ambitions for Scotland's economy.
"In doing that, we recognise the crucial importance of providing a good environment for all businesses here in Scotland
Scottish Conservative shadow finance secretary Murdo Fraser said: "Tax hikes would be a disaster not just for hard workers, but businesses right across the country.
"Neither will forgive the SNP for hitting them in the pocket, should the party choose to do so in next week's budget."
Download: The STV News app is Scotland's favourite and is available for iPhone from the App store and for Android from Google Play. Download it today and continue to enjoy STV News wherever you are.