PM holds late-night talks as hopes raised of border deal
There is speculation of a possible agreement on maintaining a soft Irish border.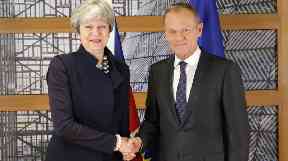 Theresa May is engaged in a flurry of diplomacy which could continue through the night and has fuelled speculation that a Brexit agreement on maintaining a soft Irish border could be edging closer.
The announcement that European Council president Donald Tusk will make a statement on Brexit early on Friday morning added to talk that the Prime Minister had made progress
On Thursday evening, Mrs May spoke to European Commission president Jean Claude Juncker, after he had phoned Irish PM Leo Varadkar.
Mr Juncker's chief spokesman Margaritis Schinas said after the calls that an early morning meeting and "press point" was "possible", but added: "We are making progress but not yet fully there. Talks are continuing throughout the night."
A Number 10 spokesman also confirmed the calls, adding: "Discussions about taking forward the Brexit process are ongoing."
A UK Government source said: "We're not there yet."
A spokeswoman for Mr Tusk confirmed he would make a statement at 7.50am Brussels time (6.50am UK time) - before the London Stock Exchange opens - but would not give further details.
Under-pressure Mrs May had been hoping to make a new offer by Friday on the Irish border to satisfy both Dublin and Northern Ireland's Democratic Unionist Party, which props up her Government.
A mooted agreement between the UK and EU on divorce issues including the Irish border, which would allow talks to progress to the future trade relationship, was torpedoed on Monday by the DUP.
The party objected to plans for "regulatory alignment" between Northern Ireland and the Republic to maintain a soft border between the two, arguing it would amount to the drawing of a new frontier with the UK mainland in the Irish Sea.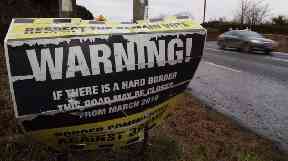 The Prime Minister is under intense pressure to get leaders at the December 14 European Council summit to declare "sufficient progress" has been made on divorce issues so trade talks can begin.
On Thursday evening, an Irish Government spokesman said: "Matters are being considered as part of ongoing discussions involving the (EU negotiating) Task Force, the Irish Government and the British Government."
But he did not specifically confirm whether or not a new form of text had been tabled by UK negotiators.
DUP chief whip Sir Jeffrey Donaldson said: "Discussions are ongoing."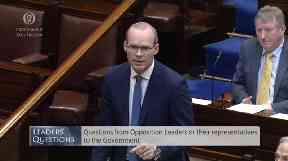 Earlier, Ireland's deputy premier Simon Coveney said the Dublin government would consider alternative proposals from London but stressed it would not countenance anything that fell short of the assurances it needs over the shape of the border post Brexit.
The Tanaiste told the Dail: "We are in a position where we still need to find a way forward but, let me be very clear, the core issues that Ireland got agreement on at the start of this week are not changing."
Foreign Secretary Boris Johnson insisted any Brexit deal must stick to the spirit of the Leave campaign.
"It is very, very important that whatever happens now, whatever we agree, has got to be consistent with taking back control of our laws, of our borders and of our cash," he said.
Pressed on whether he was comfortable with a widespread regulatory alignment between the UK and EU after Brexit, the Foreign Secretary said: "You can take it from me that whatever comes up, whatever the solution that we come to, whatever we devise getting on to the body of the talks, it's got to be consistent, it's got to be consistent with the whole of the United Kingdom taking back control."