Tony Blair denies claim he warned Trump about spying
Tony Blair called the allegations "categorically absurd".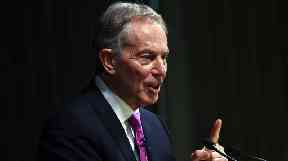 Allegations that Tony Blair warned Donald Trump that UK intelligence agencies may have spied on him are "categorically absurd", the former prime minister's office has said.
According to a new book, Mr Blair shared a "juicy rumour" with the president's son-in-law and senior aide Jared Kushner that the British had Trump campaign staff under surveillance during the election.
It is claimed Mr Blair suggested they were "monitoring telephone calls and other communications and possibly even Trump himself".
A spokeswoman for Mr Blair said the allegations, published in The Times, were "a complete fabrication" with "no basis in reality and are simply untrue".
The allegation is contained in the book "Fire And Fury: Inside the Trump White House", which has sparked furore in Washington with shocking claims about feuding within the Mr Trump's inner circle and his election to the presidency.
Former White House chief strategist Steve Bannon has been threatened with legal action by the president's lawyer over his comments to the book's author, Michael Wolff.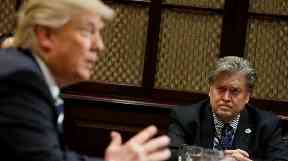 In the book, Mr Bannon is quoted as describing a June 2016 meeting at Trump Tower between Donald Trump Junior, Trump campaign aides and a Russian lawyer as "treasonous" and "unpatriotic."
Mr Bannon also speaks critically of president Trump's daughter and adviser, Ivanka, calling her "dumb as a brick".
Mr Trump hit back after the comments emerged, saying Mr Bannon "has nothing to do with me or my Presidency" and added: "When he was fired, he not only lost his job, he lost his mind."
The Times reported that Mr Wolff's book contains an account of a meeting between Mr Blair and Mr Kushner at the White House last February.
The former PM reportedly gave the impression that Barack Obama's administration had hinted that surveillance of Trump campaign staff during the election would be helpful.
The book reportedly suggested that Mr Blair was angling for a role as Middle East adviser to the President at the time.
A month after the supposed meeting, former White House press secretary Sean Spicer provoked a trans-Atlantic spat by repeating claims made on Fox News that Mr Obama had asked British intelligence to spy on Trump Tower. British spy agency GCHQ dismissed the claims at the time as "utterly ridiculous".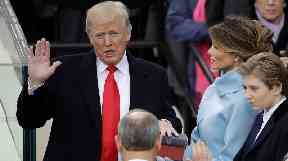 Excerpts of Fire and Fury were published ahead of the January 9 publication date.
New York magazine published a lengthy adaptation of the book on Wednesday, in which Mr Wolff writes that Mr Trump believed his presidential nomination would boost his brand and deliver "untold opportunities" - but that he never expected to win.
It also claims Mr Trump Junior told a friend that his father looked as if he had seen a ghost when it became clear he might win the presidency. The younger Trump reportedly described First Lady Melania Trump as "in tears - and not of joy" when it became clear he would win.
The first lady's spokeswoman, Stephanie Grisham, disputed that, saying Mrs Trump supported her husband's decision to run, encouraged him to do so and was happy when he won.
"The book is clearly going to be sold in the bargain fiction section," Ms Grisham said.
The book was based on more than 200 interviews, including conversations with the president and senior staff.