Former MP given suspended jail term for electoral fraud
Bob Spink, who defected to Ukip from the Conservatives, tricked elderly constituents.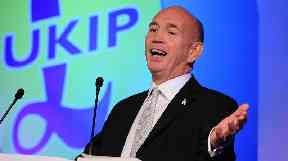 Former Ukip and Conservative MP Bob Spink has been sentenced to six months imprisonment, suspended for two years, after being convicted of four counts of electoral fraud.
The former Tory MP for Castle Point in Essex was found sentenced at Basildon Crown Court after being found guilty of tricking elderly constituents into signing electoral forms backing local candidates.
Mr Spink, 69, of Benfleet in Essex, was also ordered to carry out 150 hours of unpaid work and pay £5,000 towards prosecution costs.
Mr Spink, who defected to Ukip in 2008 after five years as Castle Point's MP, was found guilty at Southwark Crown Court of four counts of submitting false signatures on nomination forms, a type of electoral fraud.
James Parkin, 39, from Canvey Island in Essex, Ukip's election agent at the time, was found guilty of two counts of the same offence, and found not guilty of three. He had already admitted two counts.
He was given the same sentence.
Sentencing them Judge Ian Graham said: "This sort of offending undermines the working of democratic structures in this country.
"The democratic process depends on the good faith of those who engage in it, because a lot of what happens is of course quite difficult to police."
Piers Wauchope, defending Mr Spink, told the court his client since being charged the former MP had not been sleeping well, and that his reputation after spending years in public service had been ruined.
Mr Wauchope added: "He says that he has been devastated by this."
During the trial jurors heard Mr Spink tricked "elderly and infirm" voters into signing forms they believed were petitions when they were in fact supporting the Ukip candidate in the Castle Point Borough Council elections.
None of the candidates included in Spink's deception won a seat on the council, although a handful finished runner-up, the court heard.