Tories wrongly reveal Grayling as new party chairman
The Conservatives also misspelled a tweet announcing Brandon Lewis' new post.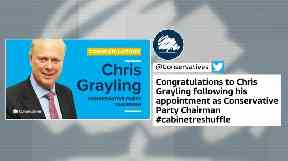 Theresa May's Cabinet reshuffle has suffered a communication breakdown with the Conservative party office wrongly unveiling Chris Grayling as the new party chairman.
The tweet with a prepared photograph announcing Mr Grayling was deleted before former Immigration Minister Brandon Lewis was announced as Mrs May's choice.
However, there was more shame for the Tory PR team with a typo in the image confirming the new appointment of Mr Lewis as a Minister without Porfolio (sic)". A corrected tweet soon appeared as the original was deleted.
The errors began as speculation mounted that Mr Grayling was being lined up for the role to replace Sir Patrick McLoughlin, who learned of his sacking in Monday's reshuffle.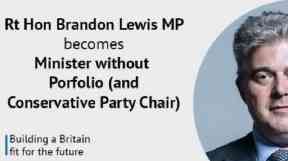 The Conservative Party account then confirmed the move, tweeting at 11:43am: "Congratulations to Chris Grayling following his appointment as Conservative Party Chairman."
However the tweet was deleted within a minute - though not before several Tory MPs had widened the error by tweeting the breaking news out.
Those tweets were also deleted within minutes shortly before Mr Lewis arrived at Number 10 to learn he was the prime minister's pick.
The announcement gaffes - which followed on from an error-strewn Tory conference - were jumped upon by Labour MPs as Westminster's blue camp were left red-faced.