Justine Greening quits cabinet after turning down DWP role
While Brandon Lewis has taken over from Sir Patrick McLoughlin as Party chairman.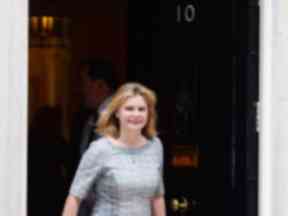 Justine Greening has quit the Government after turning down the chance to take over at the Department of Work and Pensions.
The Education Secretary became the only big name departure during Theresa May's Cabinet reshuffle on Monday.
The Prime Minister was said to have been left "disappointed" by the decision, according to ITV News Political Editor Robert Peston.
Mrs May's shake-up was sparked by former First Secretary of State Damian Green's resignation following allegations of pornography being found on a Commons computer.
David Lidington replaced Mr Green, taking his other title as Cabinet Office Minister, while Brandon Lewis was installed to take over from Sir Patrick McLoughlin as Conservative Party chairman.
Boris Johnson, Philip Hammond, David Davis and Amber Rudd all kept their jobs.
And Jeremy Hunt and Sajid Javid had additional roles added to their titles, with the Health Secretary taking on responsibility for social care and the Communities and Local Government minister having housing added to his remit.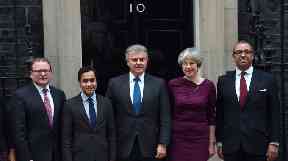 Ms Greening's decision to quit came at the end of a long day of Cabinet meetings for the Prime Minister.
She announced her departure shortly before 8pm.
Damian Hinds will replace her.
Mrs May's reshuffled also signalled a wider shake-up of Conservative headquarters by promoting a number of ethnic minority, female and younger MPs.
It comes after former cabinet minister Sir Eric Pickles recommended changes to attract younger voters.
Health Secretary Jeremy Hunt, who had been mooted for a move to business, kept his role after "persuading" Mrs May not to transfer him, according to ITV News Political Editor Robert Peston.
Mr Hunt also convinced the Prime Minister that social care should come under his umbrella remit.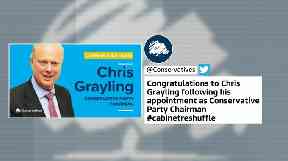 Earlier on Monday, Northern Ireland Secretary James Brokenshire resigned from the Cabinet due to a lung condition requiring surgery.
Mr Brokenshire said the decision had been made "with a great deal of regret" but that he hoped to return to government.
"At this really important time in Northern Ireland, the restoration of devolved government, wanting to see that renewed, getting back into a talks process, Brexit negotiations, and also dealing with the issues of the past, that requires focus, energy and intent, and with my surgery coming, I'm not going to be in a position to be able to give that sort of effort," Mr Brokenshire said.
The 50-year-old was made Northern Ireland Secretary in July 2016 during which he had to deal with the collapse of the Stormont Government, as well as overseeing failed power-sharing negotiations over the last year.
Shortly after his departure it was announced Karen Bradley would replace him, moving from the Department for Digital, Culture, Media and Sport.
Northern Ireland remains without an Assembly.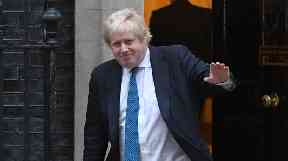 Prior to Mr Lewis' confirmation as party chair, the Conservatives deleted a tweet from their official account congratulating current Transport Secretary Chris Grayling on being appointed to the position.
A source close to Mr Grayling added that he had not been seen by the Prime Minister when the tweet mistakenly went out.
As well as reshuffling her Cabinet, it is thought Mrs May could appoint a "minister for no deal" specifically to prepare for the eventuality that the UK leaves the EU without an agreement.
Cabinet reshuffle: Which jobs have been confirmed?
David Lidington - Cabinet Office minister and Chancellor of the Duchy of Lancaster
Brandon Lewis - Chair of the Conservative Party and Minister Without Portfolio 
Amber Rudd remains Home Secretary
Philip Hammond remains Chancellor of the Exchequer
David Davis remains Secretary of State for Exiting the EU
Boris Johnson remains Secretary of State for Foreign and Commonwealth Affairs
Sajid Javid becomes Secretary of State for Housing, Communities and Local Government (was Communities and Local Government) 
Jeremy Hunt becomes Secretary of State for Health and Social Care (was Health) 
David Gauke becomes Lord Chancellor and Justice Secretary 
Karen Bradley becomes Northern Ireland Secretary 
Liam Fox remains International Trade Secretary 
Chris Grayling remains Secretary of State for Transport 
Penny Mordaunt remains Secretary of State for International Development 
Michael Gove remains Environment Secretary 
Damian Hinds becomes Education Secretary 
James Cleverly - Deputy Chair of the Conservative Party 
Chris Skidmore - CCHQ Vice-Chair for Policy at CCHQ 
Maria Caulfield - CCHQ Vice-Chair for Women 
Kemi Badenoch - CCHQ Vice-Chair for Candidates 
Ben Bradley - CCHQ Vice-Chair for Youth