Tim Farron 'pressurised' into saying gay sex is not sin
The ex-Lib Dem leader tells Christian radio station he regrets trying to dodge the issue.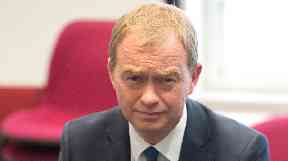 Former Liberal Democrat leader Tim Farron has said he regrets feeling pressurised into not saying gay sex is a sin during the 2017 general election campaign.
Mr Farron told a Christian radio station he was "foolish" to try and dodge the question when he was asked to clarify his position on the issue.
His answer during the campaign of "we are all sinners" was an attempt to deflect questions away from his faith and onto the Lib Dems' policies, Mr Farron said, but admitted it was "not right".
Mr Farron resigned as Lib Dem leader a week after the 8 June election saying he had found it impossible to reconcile the demands of the position with his faith.
In his first interview following his resignation, Mr Farron repeatedly refused to answer ITV News' question as to whether he genuinely believed his announcement that gay sex was not sinful.
Asked by Premier Christian Radio whether he had felt pressured into answering the question, Mr Farron said: "The bottom line is of course I did. And there are things - including that - that I said that I regret.
"I, foolishly and wrongly, attempted to push it away by giving an answer that, frankly, was not right.
"There was a sense in which I felt 'I have got to get this off my table'."
The Lib Dem election campaign was blighted by constant questions about his religious beliefs, and whether they contradicted his liberal politics.
Speaking from his parliamentary office, Mr Farron told ITV News he had proved his commitment to LGBT equality by fighting all his career for equal rights. But he said it was equally important to protect religious freedoms, arguing "that's where liberalism has got a bit lost in the last few years".