Tackling obesity crisis requires 'large-scale change'
Almost two-thirds of Scottish adults were overweight or obese in 2016.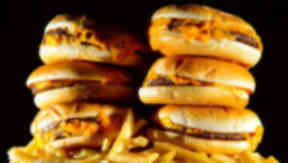 Only a "large-scale systemic change" can tackle Scotland's obesity problem, according to a report.
Around two-thirds of the adult population, 65%, were overweight or obese in 2016, up from just over half (52%) in 1995.
The annual cost of treating conditions linked to obesity in Scotland is now estimated at up to £600m, while the total cost to the economy could run into the billions.
A new report by NHS Health Scotland found the reasons behind the country's weight problem are "complex" and will require strong leadership in all sectors of society to address the issue.
It also found "substantial public support" for action to reduce the problem - a factor it described as key to reversing the trend.
It stated the way we live today - high car use, sedentary jobs, technological advances, inactive pastimes and access to energy-dense food - makes it easier to consume too much food and expend too little energy.
Three key elements were identified as necessary to reduce obesity in Scotland - tackling environmental factors, supporting people to make the right choices and giving treatment options for those who are already overweight.
The report found there was "good support" for measures involving taxation to address the issue, with the most support (62%) for placing a tax on sugary fizzy drinks and the lowest level of backing (47%) for placing a tax on fatty foods.
A majority of people were also in favour of at least one intervention placing restrictions on advertising, sponsorship and packaging of food and drink which is high in fat, sugar or salt.
Two-thirds (65%) said they were in favour of banning the use of children's cartoon characters on the packaging of unhealthy goods.
'The majority of the Scottish population does not have a healthy weight. There needs to be a large-scale systemic change to reverse this trend.'

NHS Scotland obesity report
There was majority support (57%) for reducing the portion sizes of unhealthy snacks or drinks and considerable (82%) support for limiting the amount of fat, sugar and salt that can be added to food and drink by manufacturers.
The vast majority of respondents (91%) agreed cheap fast food is "too easily available".
The report concluded: "The majority of the Scottish population does not have a healthy weight. There needs to be a large-scale systemic change to reverse this trend.
"This will require strong leadership across all sectors of society including governments, retailers, food manufacturers, restaurants, employers, the media, educators, healthcare providers and communities."
Being overweight and obesity is said to be one of the three main health risks facing Scotland, alongside smoking and drinking to excess.
It increases the likelihood of developing serious health conditions, such as type 2 diabetes, heart problems, strokes and osteoarthritis, and is the UK's second largest single preventable cause of cancer after smoking.
Report author Deborah Shipton said: "The results of the Scottish Social Attitudes Survey on obesity are encouraging.
"They tell us not only that the public agree that the levels of overweight and obesity in Scotland is a problem, but crucially that they believe that supermarkets, food producers, schools, the media and the government, alongside individuals, all have a role to play to address it."
Public health minister Aileen Campbell said: "We're currently consulting on an ambitious plan designed to help people make healthier choices, empower personal change and show real leadership.
"As with our groundbreaking strategies on alcohol and tobacco, this is the start of a progressive plan of action, learning from our experience in Scotland and further afield, that will make a real, lasting difference to the country's health."
Download: The STV News app is Scotland's favourite and is available for iPhone from the App store and for Android from Google Play. Download it today and continue to enjoy STV News wherever you are.