SNP Budget plans face first vote in Scottish Parliament
Scottish Government proposals include increasing income tax for higher-earning Scots.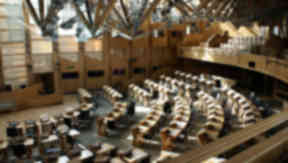 Scottish Government plans to increase income tax for higher-earning Scots are facing their first vote in Holyrood.
Finance secretary Derek Mackay said the tax changes he has put forward would safeguard lower earners, at the same time as allowing ministers to invest a further £400m in Scotland's NHS.
Seven out of 10 Scots would pay less income tax than they are currently under his proposals, he has said.
But with the SNP without a majority in the Scottish Parliament, the finance secretary has to win support from rival parties for his Budget to be passed.
Talks have been taking place, but Green co-convener Patrick Harvie - who struck a deal with Mackay last year - said there needed to be "significant amendments to the Budget as it stands".
Mackay has already outlined changes to the income tax regime in Scotland which he said will see everyone earning less than £26,000 a year paying less than elsewhere in the UK.
'If he decides not to accept the changes we have proposed, it's unclear where else he will be able to seek support for his Budget.'

Green co-convener Patrick Harvie
Speaking ahead of the Stage 1 debate on the Budget, the finance secretary said: "Our tax proposals will safeguard the lowest earning taxpayers and, overall, when coupled with our spending decisions, will protect and grow the economy.
"It ensures that 70% of individuals will pay less tax than they do now for given incomes, with 55% paying marginally less tax than they would if they lived elsewhere in the UK.
"This is therefore a budget that provides the investments we need to meet the challenges of today and the opportunities of tomorrow.
"It is with this in mind, that I call on parliament to support this budget in order to give stimulus, sustainability and stability to our economy and public services."
Harvie said while Budget talks with the government had been "constructive and professional", changes were still required to the draft tax and spending plans.
The Greens are demanding more cash be made available for local councils and for increases in public sector pay.
"If he decides not to accept the changes we have proposed, it's unclear where else he will be able to seek support for his Budget," Harvie added.
The Scottish Conservatives have made clear their opposition to the Budget, hitting out at plans to increase income tax for some Scots.
The SNP's 2016 election manifesto included a pledge not to increase the basic rate of income tax, with the Tories now accusing ministers of reneging on this.
Finance spokesman Murdo Fraser said: "The SNP used to never tire of talking about how tax cuts across various areas would help Scotland's economy.
"But now that entire ethos has been dropped, and substituted with a drive to make Scotland the highest-taxed part of the UK."
Labour has put forward its own alternative Budget proposals, including plans to bring back to 50p top rate of income tax for the highest earners.
It would match the Scottish Government's new starter rate of 19p, but would also introduce as 45p rate for those earning £60,000 - contrasting with SNP plans to tax those earning over £150,000 a year a new top rate of 46p.
Labour finance spokesman James Kelly said: "A penny on the top rate doesn't cut it when the top 1% own more than the bottom 50% put together. We need a radical budget for real change, not more tinkering."
He insisted: "It's not good enough to tinker around the edges with as many as 260,000 children living in poverty. We should be looking at a budget that stops the cuts to lifeline services and increases Child Benefit."
Meanwhile, Scottish Liberal Democrat leader Willie Rennie called for more money to be invested in education and mental health.
Download: The STV News app is Scotland's favourite and is available for iPhone from the App store and for Android from Google Play. Download it today and continue to enjoy STV News wherever you are.