Undercover policing review 'raises more questions'
MSP calls for full public inquiry examining activities of covert Met officers in Scotland.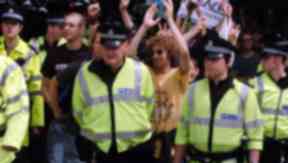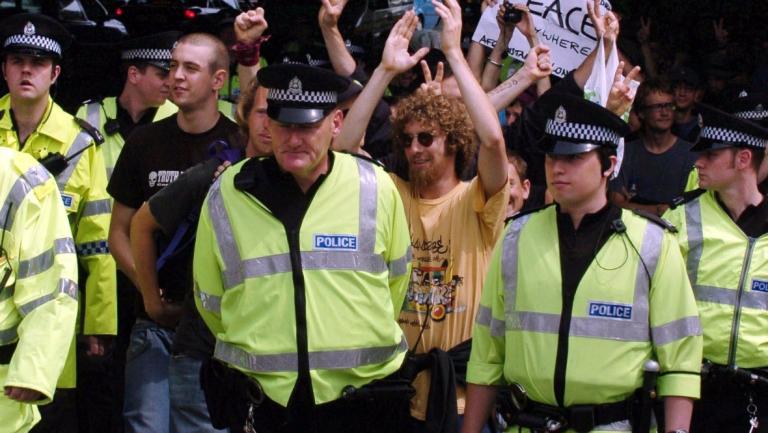 A report into undercover policing in Scotland raises more questions than it answers, according to an MSP.
The review, carried out by Her Majesty's Inspectorate of Constabulary in Scotland (HMICS), found undercover officers were involved in 423 operations between 2000 and 2016, mainly involving drugs, trafficking and child sexual exploitation.
HMICS said undercover policing had been used effectively and that Police Scotland had not infiltrated social justice campaigns.
The report found no evidence that undercover officers operated "outwith the parameters of the authorisation".
But Greens MSP John Finnie said the report would not ease public concerns over covert policing in Scotland as it fell short on investigating the activities of the discredited Special Demonstration Squad (SDS).
The SDS was formed in 1968 to infiltrate "left-wing direct-action groups". It operated as part of the Metropolitan Police's Special Branch until it was disbanded in 2008.
In 2006, the Special Branch was under the command of Phil Gormley, Police Scotland's former chief constable who resigned on Wednesday.
According to the review, both the SDS and National Public Order Intelligence Unit (NPOIU) had sent officers north of the border.
At the G8 Summit at Gleneagles in 2005, 18 undercover officers were deployed, including six from SDS and six from NPIOU.
The review said: "The purpose of these visits was connected with activities elsewhere in the UK and often in regard to legend building and maintaining their covert status within the target group."
Legend building is the process by which an undercover operative maintains and develops his or her covert identity.
Campaigners say in many cases this would involve undercover officers forming and maintaining relationships, in some cases of a romantic or sexual nature, with members of legitimate pressure groups or social justice campaigns.
In 2014, the Met paid £425,000 to a woman whose child was fathered by SDS officer Bob Lambert while he was undercover.
At the time of that settlement, there were another 12 legal claims relating to sexual relationships between SDS operatives and members of the public.
One of the officers deployed to Gleneagles in 2005 is known to have been Mark Kennedy, who spent eight years secretly gathering intelligence on campaigners and forming relationships with at least two of them.
These revelations led to the setting up of the public Pitchford Inquiry, which is looking into undercover police operations in England and Wales dating back to 1968.
Following the publication of the HMICS review on Wednesday, justice secretary Michael Matheson said there would be no such inquiry in Scotland as the concerns relate to English and Welsh forces.
But Mr Finnie, himself a former policeman, is calling on him to rethink the decision.
He said: "The report falls short on where the real public interest lies, in the activities of the now disbanded, highly discredited Special Demonstration Squad and the National Public Order Intelligence Unit, both run by the Metropolitan Police.
"The report is welcome but gives rise to many more questions than it answers.
"We need public confidence in all police operations and given the UK government will not extend their inquiry to cover Scotland or Northern Ireland, the Scottish Government must hold a public inquiry."
The Campaign Opposing Police Surveillance (Cops), which represents those spied on by undercover police, previously said the review had been "designed to fail".
On Twitter, the group wrote: "It is a matter of plain, uncontroversial fact that #spycops committed human rights abuses in Scotland over a period of decades.
"The police self-investigation published today didn't even consider anything before 2000, more than 30 years after the units were formed."
Derek Penman, chief inspector of constabulary in Scotland, said undercover policing raises "complex ethical questions" and must be controlled with effective safeguards and supervision.
He said: "During the course of our review, we spoke with all of Police Scotland's qualified undercover officers who were available for deployment.
"We found them to be professional and dedicated police officers with a clear understanding of their ethical responsibilities."
Download: The STV News app is Scotland's favourite and is available for iPhone from the App store and for Android from Google Play. Download it today and continue to enjoy STV News wherever you are.