Greens challenge SNP over US military use of Prestwick
The First Minister described an investigation by The Guardian as 'a load of bunkum'.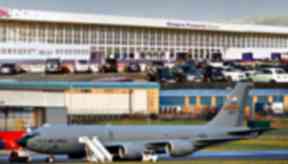 The Scottish Greens have challenged the First Minister over links between publicly-owned Prestwick Airport and both the US military and the Trump Organisation.
Patrick Harvie, the party's co-convener, asked Nicola Sturgeon about an investigation in The Guardian newspaper concerning the airport's use for US military operations.
Speaking at First Minister's Questions on Thursday, Harvie asked how many American military strikes had been facilitated by the use of Prestwick.
The First Minister said the airport, which was taken into public ownership by the Scottish Government in 2013, had been providing a refuelling service to military aircraft around the world for decades.
She said the report in The Guardian was not a "revelation" but "a load of bunkum".
The story, published on Wednesday, reveals official memos obtained under freedom of information detailing Prestwick use in "active duty" US Air Force missions last year, as well as visits to American military fairs by airport executives.
It also showed that Transport Scotland officials lobbied Scottish ministers to meet Trump Organisation representatives, US Air Force commanders and other US officials to promote the airport's business interests during an official ministerial tour of the US in 2015.
Sturgeon said no such meetings ever took place and has previously pointed out that ministers are not involved in Prestwick's business dealings.
In 2016-17, Prestwick Airport reduced its losses to £8.6m, down from £9.2m the year before, boosted by a rise in rise in military aircraft refuelling activity.
Harvie said: "When I last asked the First Minister about the Scottish Government's oversight of publicly-owned Prestwick Airport, she told me very clearly the government had had no discussions about the relationship between the airport and the Trump Organisation.
"Well, thanks to the work of The Guardian newspaper we now know that such discussions had taken place, with the government's own transport agency lobbying ministers to meet with Trump's representatives and the airport being marketed as the staging post for Trump's business.
"But we also know the concerns over this public asset go far deeper than that - a contractual relationship with the US military involving the servicing of aircraft of active missions.
"This at a time when the US has been involved in airstrikes on Syria that the First Minister vocally opposed.
"The Scottish Government must take responsibility for the use of its own property in this way."
The Green MSP asked: "Can the First Minister tell us - and if she doesn't know, will she urgently find out and report back to parliament - how many military strikes have been facilitated by Prestwick Airport and its relationship with the US military?"
The First Minister replied: "What I said to Patrick Harvie the last time he raised this question in parliament was absolutely correct.
"There are two key so-called revelations at the heart of this story.
"The first is that ministers somehow lobbied Trump on behalf of Prestwick Airport and that is based on the fact that Transport Scotland back in early 2015 - when just incidentally, was way before was even a candidate for president, let alone president - passed on a request from Prestwick for ministers to meet with the Trump Organisation during Scotland Week in 2015.
"Those meetings did not happen so that part of the story is categorically untrue.
"There's been no contact whatsoever by the Scottish Government or Transport Scotland with the US military, with the Trump Organisation or with Trump Turnberry in relation to Prestwick Airport. "
'Remember, those who are old enough, the day Elvis Presley touched down at Prestwick Airport? The reason he was there is that he was on his way home from his national service on a military plane that landed at Prestwick.'

Nicola Sturgeon
Sturgeon continued: "The second part of the so-called revelations is that Prestwick handles military flights including for the United States.
"I have to say that the fact that Prestwick Airport provides fixed-base operations and refuelling facilities for military flights is neither new nor is it a revelation.
"Its strategic plan, which was published last April, talks about it; its annual accounts, published I think in December, talk about it; its website actively promotes it; and what's more Prestwick Airport has been doing this kind of work for 80 years. "
She added: "I'm not old enough to remember this, and I don't think Patrick Harvie is either, but remember, those who are old enough, the day Elvis Presley touched down at Prestwick Airport?
"The reason he was there is that he was on his way home from his national service on a military plane that landed at Prestwick.
"This is not new, it's not a revelation - it's a load of bunkum."
Harvie retorted that the First Minister's response was "dismissive" and said public ownership of Prestwick brought new responsibilities for ministers in how it conducts business.
He called on the Scottish Government to publish the documents relating to the matter in full, some of which have been heavily redacted.
Download: The STV News app is Scotland's favourite and is available for iPhone from the App store and for Android from Google Play. Download it today and continue to enjoy STV News wherever you are.