Home Secretary says terror suspects must 'face justice'
Amber Rudd entered the debate amid rumours the captured pair could end up in Guantanamo Bay.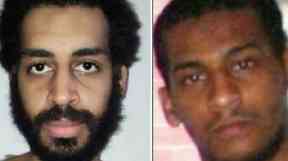 Home Secretary Amber Rudd has said the two captured British suspected IS fighters must "face justice" but stopped short of calling for the trial to take place in the UK.
Her comment comes after Justice Secretary David Gauke told Peston on Sunday the government was still considering what its options are following the detaining of Alexanda Kotey and El Shafee Elsheikh.
It has been speculated the men, who were captured last month in Syria, could end up in Guantanamo Bay or the International Criminal Court at The Hague.
Kotey and Elsheikh are suspected of being the final two "Beatles" alongside Mohammed Emwazi - also known as Jihadi John - and Aine Davis.
The gang allegedly beheaded a number of foreign prisoners while fighting for so-called Islamic State.
Lord Carlile, a former counter-terrorism regulator, has led calls to bring Kotey and Elsheikh back to the UK for "the proper forum" of a trial.
Asked if she supported the move, Ms Rudd said: "The important thing is that those two people face justice.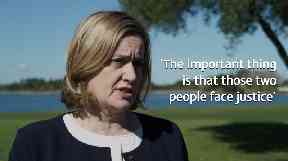 "We will always do what is right to make sure that we protect British people and that they get the justice they deserve.
"I'm not going to comment any further on where that should be."
In his appearance on Peston on Sunday, Mr Gauke said: "At this stage we are considering what the options might be.
"As someone who believes in our principles of the rule of law and so on, my belief is that they need to be properly brought to justice. But, I think we need to consider what are the practical options in these circumstances."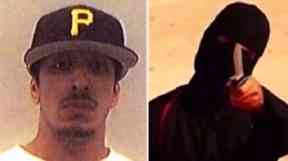 The US Department of Defence previously said they were "still considering options" with regards to the two captured men's future.
Emwazi, Davis, Kotey and Elsheikh were dubbed "The Beatles" because of their English accents.
Emwazi, who appeared in horrific videos showing the beheading of British and American hostages, was killed in a British drone strike in 2015.
Davis is in custody in Turkey where he was convicted on terrorism charges.
Kotey, from west London, was heading to Turkey and planned to travel back to Europe when he was detained, Syrian Democratic Forces told ITV News.