Scots Tory MP compares Brexit fishing deal to cold sick
Douglas Ross said he is 'angry and disappointed' for Moray's fishermen.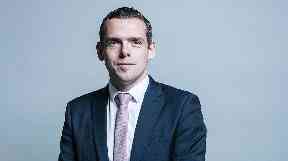 It would be easier to get someone to "drink a pint of cold sick" than to convince them the Brexit transition deal is good for fisheries, a Scottish Conservative MP has said.
Douglas Ross, who represents Moray at Westminster, said he is "angry and disappointed" for his constituents.
The deal will see the UK effectively remain in the Common Fisheries Policy during the 21-month long implementation period.
This will mean Scottish fishermen must abide by UK designated catch quotas and foreign vessels will be allowed to continue fishing in British voters.
Moray returned the largest Leave vote in Scotland at the 2016 EU referendum, with 49.9% of voters wanting out the EU.
In a statement, Ross said: "There is no spinning this as a good outcome, it would be easier to get someone to drink a pint of cold sick than try to sell this as a success.
"I hope my disappointment on behalf of Moray fishermen is clear and I will now be redoubling my efforts to ensure their interests are protected during the implementation period and any final deal that does not deliver, unequivocally, full control over fish stocks and vessel access will not have my support."
Speaking Brussels on the deal's announcement, the Brexit secretary David Davis said: "We must seize the moment and carry forward the momentum of the past few weeks.
"The deal we struck today, on top of that agreed in December, should give us confidence that a good deal for the United Kingdom and the European Union is closer than ever before."
Download: The STV News app is Scotland's favourite and is available for iPhone from the App store and for Android from Google Play. Download it today and continue to enjoy STV News wherever you are.