Syrian air strikes condemned by Church of Scotland
The Kirk has criticised the lack of United Nations approval for military action.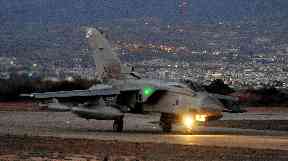 British air strikes in Syria have been condemned by the Church of Scotland.
The Kirk has criticised the lack of United Nations approval for military action in response to a chemical attack in Douma on April 7 which left dozens dead.
It called the UK's "lack of long-term strategy" in Syria "deeply concerning" and said any action should have been put to a parliamentary vote.
Reverend Richard Frazer, convener of the church's society council, said air strikes would only lead to "loss of lives, suffering and fear".
"In the face of such violence and suffering, where civilians are being senselessly slaughtered, there is an overwhelming urge to do something," he said.
"That urge is often expressed in the form of military action.
"When such difficult decisions are taken it is only right that they have received full and proper consideration.
"We would expect parliament to have a critical role in such decisions and we would reaffirm the role of the United Nations in resolving this conflict.
"That this decision has been taken without the approval of either of these institutions is a concern."
The Kirk's comments echo those of First Minister Nicola Sturgeon, who has said any further military action in Syria should be put to a vote in the House of Commons.
On Saturday, the First Minister called the use of chemical weapons "sickening" but warned the latest action risked "dangerous escalation".
She said: "Syria's use of chemical weapons is sickening - but the question that the PM has not answered is how this action, taken without parliamentary approval, will halt their use or bring long-term peace.
"Air strikes have not resolved situation in Syria so far - nothing I've heard persuades me they will do so now."
Prime Minister Theresa May will go before the commons on Monday to explain why she ordered British cruise missile attacks on Syria.
The strikes, carried out in cooperation with the United States and France in the early hours of April 14, were intended to weaken the Syrian regime's chemical weapons programme.
Scottish Conservative leader Ruth Davidson backed the air strikes, saying: "The use of chemical weapons is unacceptable and those responsible must be held accountable."
US officials said they have evidence that sarin and chlorine gas were used during the attack in Douma.
It has been blamed on the regime of Syrian President Bashar al-Assad by the Scottish, UK, French and US governments.
Meanwhile, the Syrian Government and its ally Russia have claimed the attack was faked or staged by the UK or Syrian rebels.
Russia has also claimed the air strikes were intended to cover up evidence of the attacks.
Download: The STV News app is Scotland's favourite and is available for iPhone from the App store and for Android from Google Play. Download it today and continue to enjoy STV News wherever you are.