Ex-Catalan minister 'utterly refutes' extradition charges
Clara Ponsati is accused of violent rebellion and misappropriating public funds.
Former Catalan minister Clara Ponsati has said she "utterly refutes" the charges against her as she returned to court for the latest stage in Spain's attempt to extradite her.
Ms Ponsati, 61, faces charges of violent rebellion and misappropriating public funds while she was Catalonia's education minister.
The charges are based on her allowing schools to be used as voting places during last year's contentious Catalan independence referendum.
The Spanish Government claims the plebiscite was illegal and used riot police and violent tactics in an attempt to disrupt voting on October 1, 2017.
Lawyers for Ms Ponsati, an academic at St Andrews University, revealed to Edinburgh Sheriff Court that they had visited Spain to meet "experts" on the country's legal system.
Advocate Gordon Jackson QC, representing the 61-year-old, said: "The agents in the case have spoken to experts. They have visited Catalonia.
"We are also going to be speaking to more experts in London as part of our preparation in the case."
The Spanish Government has served a European Arrest Warrant against Ms Ponsati.
Ms Ponsati's legal team believe the Spanish state is persecuting their client for holding legitimate political views and point to substantial levels of support among the Catalan public for independence.
The lawyers believe she shouldn't be extradited from Scotland as it would breach her human rights.
If she were extradited and then convicted of the charges in Spain, they fear she could face a total sentence of up to 33 years and spend the rest of her life in a Spanish jail.
On Tuesday, Mr Jackson told the court that paperwork submitted by the Spanish authorities stated Ms Ponsati was wanted on a charge of corruption.
He asked prosecutor Michael Meehan to obtain more information on the definition of what constitutes corruption in Spanish law to help him prepare his case.
Mr Meehan told Sheriff Nigel Ross he would ask the Spanish authorities for the information and would pass the details onto Ms Ponsati's lawyers.
Sheriff Ross fixed another procedural hearing to take place in the case for June 12. The substantive hearing in the case will take place in July 2018.
A number of pro-Catalan and Scottish independence campaigners waited outside the court in support of Ms Ponsati.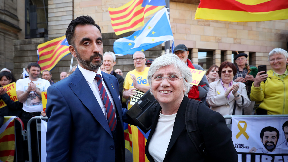 Speaking outside court after the hearing, Ms Ponsati's solicitor Aamer Anwar said she intends to fight the extradition on "many grounds".
He described Spain as carrying out a "politically-motivated prosecution" and added she "utterly refutes" the charges against her.
Mr Anwar said: "To extradite Clara would be unjust, oppressive and incompatible with her human rights."
The lawyer went on: "Throughout Europe, Spain stands accused of abusing the arrest warrant as a tool of political repression.
"The courts can never be a solution or alternative to political negotiation.
"Spain today faces its greatest crisis since the dark days of General Franco.
"Without the unconditional release of all political prisoners and withdrawal of the European Arrest Warrants, there will never be a resolution to this crisis."
In March, Ms Ponsati handed herself in to police in Edinburgh but she has vowed to fight her extradition.
Last month it emerged more than £225,000 has been raised to help the academic's legal battle.
Download: The STV News app is Scotland's favourite and is available for iPhone from the App store and for Android from Google Play. Download it today and continue to enjoy STV News wherever you are.