First Minister opposes giving all prisoners right to vote
Nicola Sturgeon's remarks come after a Holyrood committee backed the idea.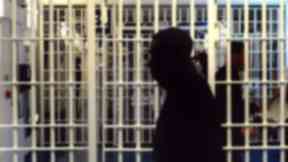 The First Minister does not agree with giving all prisoners the right to vote, she has told MSPs.
Nicola Sturgeon stated her opposition to the move after a Holyrood committee backed it.
The equalities and human rights committee concluded that prisoners serving custodial sentences should be enfranchised.
A majority of MSPs on the committee said they agreed excluding prisoners from voting did not serve the interests of society or their rehabilitation.
Only two Conservative members dissented from this conclusion, published in a report on the current blanket ban.
The law is being changed for UK elections following a ruling from the European Court of Human Rights.
Sturgeon said during First Minister's Questions that a "grown-up" debate over the issue was needed following devolution of the relevant power to the Scottish Parliament.
Responding to a question from Tory MSP Murdo Fraser, she made clear she was not in favour of enfranchising all prisoners.
Fraser said such a move would be an "obscenity" and an "insult" to the families of victims of violent crimes..
The First Minister said: "I've previously been clear that now that this power is devolved, the Scottish Parliament will need to consider how to ensure compliance with the European Court of Human Rights (ECHR) ruling.
"But I have to say I am not of the view that this should lead to the enfranchising of all prisoners and I am, to say the least, sceptical that complying with the ECHR requires all prisoners to have the right to vote.
"As the committee makes clear further consultation with a wide range of stakeholders including victims of crime and the general public is needed and the Scottish Government will respond to the committee's report in due course.
"I am sure that all MSPs will be very mindful of the views of victims of crime."
She made clear she was not criticising the committee, describing the issue as "difficult and sensitive"
But she added: "It is my view that we should not give the vote to all prisoners.
"I'm certainly not persuaded of enfranchising prisoners who are in prison for the most serious and heinous crimes and are perhaps in prison for lengthy periods of time and I don't think that is required to comply with the ECHR.
"Beyond that I think there is a debate, a proper, mature, grown-up debate, that this parliament requires to have and I would thank the committee for their report for informing that debate."
Green MSP John Finnie commented: "We know that the current ban neither protects public safety nor acts as an effective deterrent against crime.
"If the First Minister really sees Scotland as a progressive beacon, then I'd urge her to get behind the principle that the right to vote is not a reward that we give to some citizens, but a basic human right that we all inherit in a democracy.
"Prisoners can already vote in Denmark, Finland, Sweden and Ireland and unless the First Minister changes her view on prisoner voting, that she doesn't 'support enfranchising all prisoners', then Scotland will not be able to claim the status of being a progressive beacon."
Download: The STV News app is Scotland's favourite and is available for iPhone from the App store and for Android from Google Play. Download it today and continue to enjoy STV News wherever you are.