Conservatives call on ministers to back sentencing plan
It would factor in the exploitation of vulnerable people during sentencing of offenders.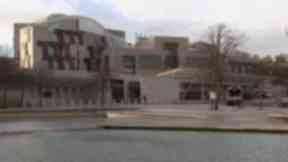 A proposal to take into account the exploitation of vulnerable people during the sentencing of offenders should be backed by ministers, the Scottish Conservatives have said.
The introduction of a general aggravation covering exploitation and vulnerability was one of a series of recommendations set out in a review of Scotland's hate crime laws, published last week.
It would give courts the ability to increase sentences for criminals who target victims because of their age or disability, based on perceived vulnerability.
Lord Bracadale, the review's author, said that while the aggravation would not be treated as a form of hate crime, it would address "opportunistic crimes committed against the elderly and disabled persons".
Tory justice spokesman Liam Kerr said: "It is entirely proper that targeting a victim based on their vulnerability should be considered when sentencing that criminal.
"Criminals must know that they will be additionally punished for such callous and inhuman behaviour. "Victims and their families should know that the sentencing reflects their additional suffering.
"We are therefore urging the Scottish Government, in the strongest possible terms, to ensure that those who target the most vulnerable of our society, with criminal intent, are punished accordingly."
The findings of the review will be debated at Holyrood on Thursday.
Other recommendations include expanding statutory aggravations beyond race, religion, disability, sexual orientation and transgender identity to include offences involving "hostility" based on age and gender, and expanding stirring up hatred offences to cover all these characteristics as the current law covers only race.
The review recommends repealing the current racial harassment law and combining all the hate crime legislation in a single Act.
'We will continue to work with communities across Scotland to build trust and understanding, and, wherever possible, prevent hate crime from happening in the first place.'

Scottish Government spokesman
Lord Bracadale does not recommend creating a new law to replace the controversial Offensive Behaviour at Football and Threatening Communications Act, repealed by the Scottish Parliament earlier this year, saying the issue can be dealt with under existing offences.
A Scottish Government spokesman said: "Ministers have welcomed Lord Bracadale's report and have agreed to his proposal for a single Act to consolidate the law in this area.
"Having noted his other recommendations, we will use these as a basis for a public consultation on how to bring forward new legislation that is fit for the 21st century.
"Lord Bracadale's recommendation for new 'stirring up' offences in relation to all protected characteristics would see the section six offence under the 2012 Act - lost as a result of Parliament's repeal vote - re-introduced and extended.
"However, we have been consistently clear that legislation alone will not achieve the inclusive and equal society that we aspire to, however the laws passed by Parliament do form a clear basis for what is and is not acceptable in the communities we are elected to serve.
"We will continue to work with communities across Scotland to build trust and understanding, and, wherever possible, prevent hate crime from happening in the first place."
Download: The STV News app is Scotland's favourite and is available for iPhone from the App store and for Android from Google Play. Download it today and continue to enjoy STV News wherever you are.