Eric Trump: Wind turbines don't spoil golf course view
Donald Trump had fought a long battle against the erection of the wind farm in Aberdeen.
Eric Trump admitted an offshore wind farm has not spoiled the view from his family's Aberdeenshire golf course - despite his dad's prolonged battle against it.
Before he became US President, Donald Trump fought against the erection of 11 of the world's most powerful masts near Trump International at Menie Estate.
He argued that the 625ft-tall towers would ruin the experience for golfers, and lost a series of legal battles against them before he was elected in 2016.
Trump Snr vowed to continue his fight in European courts and described the European Offshore Wind Deployment Centre as a "blight on the coastline" and "economically disastrous".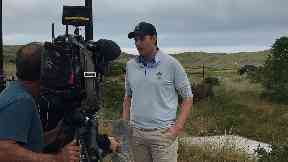 Developer Vattenfall reported rising profits last year, while both the President's Scottish golf courses lost money.
He is expected to head to Scotland on Friday night and spend the weekend at his Trump Turnberry golf resort in South Ayrshire.
STV News spoke to Eric the Aberdeen golf course on Thursday, ahead of his father's visit.
Speaking about the wind farm, the 34-year-old said: "No it didn't spoil my enjoyment - this is one of the greatest golf courses of the world.
"It's been ranked top 50 by everybody in the world, which is incredible considering how young it is.
"In terms of the wind turbines, I think they're a little bit irrelevant.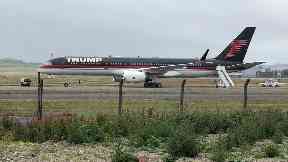 "Do we wish they were built in a different location? Absolutely.
"We fought against them, pretty much everybody on the coast fought against them, but we'll see if they're still here in ten years.
"But no, it doesn't spoil this place, it's incredibly special."
Trump's son arrived in Scotland on a golfing trip on Thursday morning, with his father flying into the UK later in the day ahead of a meeting with the Prime Minister and the Queen.
Asked about the president's view on US-UK relations, he said: "The UK's played big part of his life, aside from what he's doing from a public standpoint and political standpoint, just being over here is great and having a weekend to be able to relax a little bit he gets very little of that these days as you can probably imagine.
"It should solidify the relationship that we have between the UK and the US."
Download: The STV News app is Scotland's favourite and is available for iPhone from the App store and for Android from Google Play. Download it today and continue to enjoy STV News wherever you are.