Tory councillor compared women in burkas to patio umbrellas
Aberdeenshire deputy provost Ron McKail has apologised for sharing the Facebook post.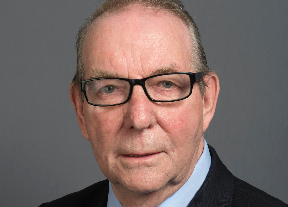 A Conservative deputy provost has apologised after sharing a Facebook post likening Muslim women wearing burkas to patio umbrellas.
Aberdeenshire councillor Ron McKail, who represents the Westhill and District ward, shared an image in 2016 of three folded black patio umbrellas on Facebook.
It included the text: "I spent half an hour talking to them, wanting to learn about their culture until the bartender cut me off and told me they were patio umbrellas."
The former serviceman said the post had carried two photos, the other of which was an image of a poppy, and claimed he only shared it to show support for the military.
McKail has previously said sorry for sharing social media posts from the far-right group Britain First.
His latest apology comes as the Conservative party has become embroiled in a row over Islamophobia after controversial remarks made by Boris Johnson.
The ex-foreign secretary wrote in an article for The Daily Telegraph that women in burkas looked like "letter boxes" and "bank robbers", whilst arguing against a ban on full-face veils.
The Tory party is investigating Johnson for potential breaches of its code of conduct and he has been condemned by many senior Conservatives, including Scottish party leader Ruth Davidson.
She called his comments "gratuitously offensive" and "poor form" and urged the former London mayor to say sorry, but he has so far resisted demands to apologise for the remarks.
McKail told the Daily Record that he did not agree with the views on burkas expressed by Johnson.
Former Conservative co-chairwoman Baroness Warsi has previously described Islamophobia as "very widespread" at all levels of the party in a call for an independent inquiry on the issue.
The Scottish Tories were also accused of having a "deep problem" with Islamophobia by the Muslim Council of Scotland earlier this year.
It came after the party expelled a North Lanarkshire councillor, Stephen Goldsack, after it emerged he had ties to the BNP.
In a statement, McKail said: "The post in question was shared more than two years ago and contained two photos, one of which was a poppy with the message 'Support our Soldiers'.
'I have removed this post and I have made clear I did not intend to cause offence, just to show my support for the UK military'

Ron McKail
"I am a former serviceman, and that is why I shared it.
"When this was first reported in the press in 2017, I apologised unreservedly, and I do so again now.
"I have removed this post and I have made clear I did not intend to cause offence, just to show my support for the UK military."
A Scottish Conservative party spokesman said: "Councillor McKail has taken the post down and apologised.
"He understands that this is not appropriate."
The SNP accused Ruth Davidson of turning a blind eye to Islamophobia within the Scottish Tory party.
A spokesman said: "This is typical hypocrisy from Ruth Davidson - she's outraged about Islamophobia when it suits her, but turns a blind eye when it's in her own party.
"The Tories need to get their house in order - vile Islamophobic and bigoted views are rife within their party, to the point where they think someone with these views is an acceptable choice to be deputy provost in Aberdeenshire.
"The Muslim Council of Scotland have called on Ruth Davidson to take action and root out Islamophobia within her party - a call that has fallen on deaf ears.
"Perhaps Ruth Davidson should concentrate on removing the deeply ingrained racism and Islamophobia on her own patch before trying to occupy any moral high ground on the back of comments by her party colleagues south of the border."
Download: The STV News app is Scotland's favourite and is available for iPhone from the App store and for Android from Google Play. Download it today and continue to enjoy STV News wherever you are.