Sturgeon: 'Difficult to come to terms' with Salmond claims
Scottish Government received sexual harassment complaints about the former first minister.
Nicola Sturgeon has said harassment complaints against Alex Salmond will be "upsetting" for the SNP.
The Scottish Government has confirmed it received two complaints regarding the former first minister, who has described the allegations as "patently ridiculous".
Mr Salmond intends to take court action against the Scottish Government to contest the complaints process activated against him.
Ms Sturgeon said her relationship with her predecessor "makes this an extremely difficult situation for me to come to terms with".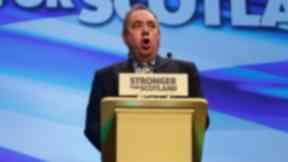 In an interview, she said: "Complaints were received in January from two individuals relating to Alex Salmond.
"Since then, they have been under investigation by the permanent secretary under a procedure that was agreed by me in December last year.
"I have been aware of the fact of the investigation but have had no role in it and until now was not able to refer to it publically in order to protect the integrity of the investigation.
"Alex Salmond has now instituted legal proceedings against the Scottish Government so I'm restricted on what I can say but the Scottish Government will rigorously defend its processes.
'I have been aware of the fact of the investigation but have had no role in it.'

Nicola Sturgeon
"I have made clear on many occasions that in all workplaces people must feel able to bring forward complaints and have confidence they will treated seriously and now it's important due and fair process is followed.
"I have limited information but there are legal proceedings under way and for legal reasons I can't confirm the limited information I have."
She continued: "I heard about the fact initially from Alex Salmond himself in April and I knew the process I agreed in December was under way and had no role in that process.
"I would not intervene in that process."
Leslie Evans, Permanent Secretary at the Scottish Government, said an internal review was launched last year into the Scottish Government's procedures for handling complaints in the workplace in light of wider concerns about harassment at Westminster and the Scottish Parliament.
As part of that review, a new procedure on handling harassment complaints involving current or former ministers was introduced.
She said two complaints were raised in January against Mr Salmond and he was notified in March.
Sturgeon would not confirm if Police Scotland has been made aware of the incidents.
She said: "That's not a matter I am able to confirm.
"Obviously that's a matter to be directed to Police Scotland."
Ms Evans said the former first minister started legal proceedings this week when informed that a statement on the complaints was to be made public.
Mr Salmond has since dropped the proceedings, allowing the permanent secretary to confirm the issue.
He has denied the claims and said he has been prevented from properly challenging them by Scottish Government procedure.
Download: The STV News app is Scotland's favourite and is available for iPhone from the App store and for Android from Google Play. Download it today and continue to enjoy STV News wherever you are.