Scottish Government invests £27m into Brexit war chest
The money will be used to ensure an 'effective response' to leaving the EU.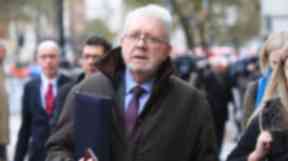 The Scottish Government has allocated £27m to protect against the worst effects of Brexit, MSPs have been told.
Constitutional relations secretary Michael Russell announced the additional funding would be used to ensure an "effective response" to leaving the EU.
Mr Russell warned that an "unprecedented" number of pieces of legislation known as statutory instruments, required to prepare Scottish laws for Brexit, will place a heavy burden on the Scottish Parliament and Scottish Government.
He went on to say that the best option for Scotland's economy, society and people is to have continued membership of the European Single Market and Customs Union.
Addressing MSPs on Tuesday, Mr Russell said: "However carefully we prepare for a no deal scenario, it will still result in chaos.
"Even the UK Government's own no deal plans will require a plethora of agreements with the EU in order to work effectively. In a situation where negotiations have broken down, we have to ask how plausible this is.
"A no deal is not inevitable, but the Chequers Agreement is not deliverable, and a blind Brexit is not acceptable. So, not leaving would be best and the only alternative thereafter is continued membership of the Single Market and Customs Union which is essential for our economy, our society and the people of Scotland.
"The Scottish Government will continue to make that case whilst fulfilling our duty of protecting Scotland as best we can from the threats of a Brexit - any Brexit - that we do not want, and that we did not vote for."
Neil Findlay, Scottish Labour's Brexit spokesperson, said: "It is increasingly clear that the Tories shambolic handling of Brexit is pushing the UK to the brink, risking our economy, jobs and livelihoods.
"With the Tories becoming ever more factional by the day and the Chequers deal sinking, it is right that the Scottish Government prepares for every scenario.
"But the reality is the SNP has provided scant detail on the nature of its preparations, focusing instead on spin and rhetoric over substance.
"Rather than trying to grab headlines, the Scottish Government's sole focus should be on protecting workers' rights, jobs and our economic future."
Download: The STV News app is Scotland's favourite and is available for iPhone from the App store and for Android from Google Play. Download it today and continue to enjoy STV News wherever you are.