Health boards ordered to stop using mesh implants
Scottish Government effectively bans controversial procedure.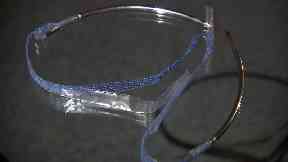 Health boards in Scotland have been told to immediately stop using vaginal mesh implants.
The move comes after campaigners called for the procedure to be halted after implants were implicated in the death of one woman and serious medical complications in many others.
Health minister Jeanne Freeman told MSPs on Wednesday that she had now taken the step of halting implant procedures across Scotland.
In a statement at Holyrood, Ms Freeman said an effective ban would be in place until the introduction of a new "restricted use protocol".
This would ensure the procedure would not be used except in the most exceptional circumstances, where there was no clinical alternative and it was the express wish of the woman concerned after receiving full information.
Ms Freeman updated MSPs the week after it emerged the death of 75-year-old Eileen Baxter in August was linked to a mesh implant.
She said: "I have today asked the chief medical officer to instruct health boards to immediately halt the use of transvaginal mesh altogether in cases of both pelvic organ prolapse and stress urinary incontinence pending the implementation of a new restricted use protocol that will ensure procedures are carried out only in the most exceptional circumstances and subject to a robust process of approval and fully informed consent.
"The instruction to halt is I believe a proportionate measure whilst a rigorous high vigilance restricted use protocol for any future practice is developed and put in place.
"The lifting of this halt in use can only be considered once there is confidence that there's sufficient evidence that the protocol will only be triggered in only the most limited of circumstances."
Ms Freeman said the halt would not affect other uses of mesh for example for hernia repair, an area that would be kept under review.
Women currently waiting for a mesh procedure under the 12-week treatment time guarantee would also be allowed to proceed provided it is their express wish to do so.
Mesh implants are generally used to treat severe incontinence or pelvic organ prolapse, often caused by pregnancy.
Chief medical officer Catherine Calderwood previously told STV surgeons should be able to use the implants in "very exceptional circumstances", and then only after discussing the possible complications with their patient.
"We've heard from women with terrible life changing injuries following the use of mesh and we must prevent that happening in the future," she said.
"What we do have is a small number of women with very, very debilitating symptoms from their incontinence, their prolapse and in whom there is no choice but to use mesh which will actually improve their quality of life."
Labour's Neil Findlay "warmly welcomed" the announcement but criticised the time it had taken to come about.
He said: "This is something I and the Scottish Mesh Survivors have been calling for for the last six years and had the Scottish Government acted at the time then thousands of women would have been spared the enduring anxiety and misery of lost mobility, constant pain and ruined lives... and as we know of last week, even death."
Holyrood's Public Petitions Committee had already called for the use of mesh implants to stop, citing "serious concerns" over an independent review into their use.
That review concluded the procedure must not be offered "routinely" to women with pelvic organ prolapse.