Date set for Parliament's 'meaningful vote' on Brexit deal
Theresa May confirmed the crunch Westminster vote will take place on December 11.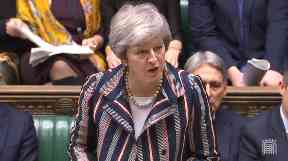 The Prime Minister has set a date for the House of Common's "meaningful vote" on her Brexit deal.
Theresa May confirmed in Parliament that the crunch vote, which could torpedo more than a year of complex negotiations with the EU, will take place on Tuesday, December 11.
It comes after European leaders signed off on both the 585-page withdrawal document detailing the terms of the UK's divorce from the EU and the political declaration on their future relationship.
However, May faces opposition to the agreement from all sides, including from many within her own party as well as the Democratic Unionist Party (DUP), which props up her government.
The vote will be preceded by five days of debate on the Brexit deal, beginning on Tuesday, December 4.
In a statement to the Commons on Monday, the Prime Minister said rejecting the agreement would take Britain back to "square one".
She told MPs: "I can say to the House with absolute certainty that there is not a better deal available.
"Our duty as a Parliament over these coming weeks is to examine this deal in detail, to debate it respectfully, to listen to our constituents and decide what is in our national interest. "
May continued: "We can back this deal, deliver on the vote of the referendum and move on to building a brighter future of opportunity and prosperity for all our people.
"Or this House can choose to reject this deal and go back to square one.
"Because no-one knows what would happen if this deal doesn't pass.
"It would open the door to more division and more uncertainty, with all the risks that will entail."
Labour leader Jeremy Corbyn responded: "The truth is, under this Government we have never got off square one.
"This botched deal is still a bad deal for the country and all yesterday did was mark the end of this government's failed and miserable negotiations."
The SNP's Westminster leader Ian Blackford said the deal was "full of ifs and buts" which would see Scottish fishermen "sold out" in a future fisheries agreement.
Confirming the date of the vote, May later told the House: "I'm looking ahead to December 11, when this House will be faced with a decision as to whether or not it wishes to deliver on the vote of the British people with a deal that not only delivers on that vote but also protects their jobs."
Writing to Conservative MPs, chief whip Julian Smith said the vote would come after five days of debate, starting on December 4.
He informed MPs that attendance in the voting lobbies should take priority over any Christmas gatherings.
Download: The STV News app is Scotland's favourite and is available for iPhone from the App store and for Android from Google Play. Download it today and continue to enjoy STV News wherever you are.