May to make case for Brexit agreement in Scotland visit
The Prime Minister will tell factory workers her draft deal promises to be good for business.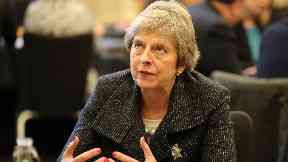 Theresa May will visit Scotland on Wednesday as she seeks to promote the draft Brexit agreement she says is a "good deal" for businesses both north and south of the border.
First Minister Nicola Sturgeon has already claimed Ms May is lining up Scotland's fishing sector to be used as a "bargaining chip" in negotiations with Europe post-Brexit.
The Scottish Government has also published analysis claiming the draft Brexit deal could result in a "loss equivalent to £1610 per person in Scotland compared to EU membership by 2030".
Ms May, who is touring the UK in an attempt to sell the deal direct to voters, will argue the ability for the UK to strike its own trade deals with non-EU countries for the first time in decades could benefit "iconic" Scottish industries such as salmon and Scotch whisky.
The Conservative leader is due to visit a factory near Glasgow to speak about how she believes the deal - which will be voted on by MPs in the House of Commons next month - will provide certainty for employers.
She will say: "It is a deal that is good for Scottish employers and which will protect jobs. It includes a new free trade area with no tariffs, fees, quantitative restrictions or rules of origin checks - an unprecedented economic relationship that no other major economy has.
"At the same time, we will be free to strike our own trade deals around the world - providing even greater opportunity to Scottish exporters.
"Crucially, the deal also ensures that we will leave EU programmes that do not work in our interests. So we will be out of the common agricultural policy, which has failed our farmers, and out of the common fisheries policy (CFP), which has so tragically failed Scotland's coastal communities.
"At long last, we will be 'an independent coastal state' again - taking back full sovereign control over our waters, and free to decide for ourselves who we allow to fish in our waters."
The First Minister said the draft deal, still to be voted on in the House of Commons, could cost the equivalent of £1600 for each person in Scotland, compared to continued EU membership.
But she claimed it is not certain that a free trade deal will be agreed, meaning the cost could be higher.
During a speech at Bute House on Tuesday, Ms Sturgeon said: "The analysis shows why the deal agreed by the Prime Minister is unacceptable to the Scottish Government and damaging to the people of Scotland.
"No government of Scotland with the interests of this and future generations at heart could possibly accept it.
"This deal will take Scotland out of the EU against our will and remove us from the European Single Market of 500 million people, which is eight times larger than the UK market.
"It will take us out of the Customs Union and the benefits of EU trade deals with more than 40 countries across the globe. In short, it will make us poorer."
Download: The STV News app is Scotland's favourite and is available for iPhone from the App store and for Android from Google Play. Download it today and continue to enjoy STV News wherever you are.